Pink Tries Her Hand at Building Baby's Crib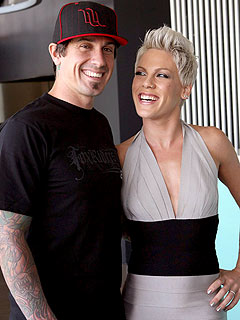 NewsPix/Rex
It's nursery – 1, Pink – 0.
Despite her best attempts to assemble a crib Thursday evening, mama-to-be Pink — who's expecting her first child this spring — admits victory wasn't quite hers.
"Ok baby room, it's me and you tonight," the songstress, 31, Tweeted. "How many think I can put a crib together?"
However less than an hour later, Pink — armed with a set of tools — admitted her hard work was going nowhere. "I don't think any of them work," she wrote. "They're just sitting there."

Still confident in her efforts — no matter the outcome! — Pink reached out to husband Carey Hart to show off her skills. "Watch when you come home, I will have a crib set up and hanging from a silk with a changing table on the ceiling," she added.
Fortunately, Hart eventually showed up to save the day.
"Ok, I'm not gonna lie. I got completely distracted with baby clothes and Carey came home and built the crib," she revealed. "He cursed a lot."
And Hart's advice for his hands-on wife? "Step away from the baby room," he joked Friday morning.
— Anya Leon