Elisabeth Röhm's Blog: Proudly Potty-Trained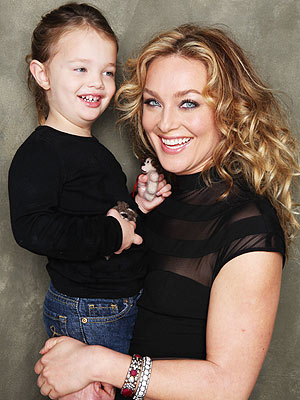 Kimberly Metz
Thanks for welcoming our celebrity blogger — Elisabeth Röhm! The actress, 37, best known for her role as Serena Southerlyn on Law & Order, has a busy 2011 ahead of her.
She can be seen on the big screen in the upcoming films Chlorine, Transit and Abduction, and plans to continue her role as spokesmom for Juno Baby.

In her latest blog, Röhm — who is mom to 2½-year-old daughter Easton August with fiancé Ron Anthony — celebrates her little girl's (finally) productive potty-training.

Big news today on the Western Front! EASTON IS OFFICIALLY POTTY-TRAINED! We are sending a ticker tape out with the announcement!
This is big news in our household. I often wondered how Easton herself could handle the saggy pants almost three years later. I always thought, "That cannot feel good!" Well, I wish my mom was around to share in the good news today. Instead I have you, PEOPLE.com readers, to share Easton's latest with. I love that! Thanks for sharing our moments with us.
I had honestly began to run out of ideas for suggesting the benefits of potty-training. It's a major life improvement, right? We clearly live a far more enjoyable life with our clean panties! Still, Easton was resistant and very much attached to her diaper.
My friends who all have older kids, as well as my beloved Aunty-Lolly, gave tips that didn't seem to move us along. We used the stickers she loves so much as incentive to each potty success. I'd exhausted the books. No luck with the naked summer of plastic pools and the big girls playing outside without diapers. The discussions of lacy big girl underpants didn't seem to work either.
I have learned that Easton does things in her own sweet time and makes decisions just for the mere pleasure of making decisions. She had decided she wasn't ready and no amount of suggestion or support was going to make her ready! Until this Sunday, when she proudly strode into the living room while we were watching football and announced her news.
When Easton does something she goes all the way! "I pooped in the potty," she said as she stood center stage. We were shocked! We gave her a big, "Wow!" This wasn't just a pee-pee announcement. This was the whole she-bang!
I actually love this about Easton. She trusts her judgment time and time again and likes to do big girl things in general. It makes sense to me that she wanted to wait until she could wrap her head around the whole potty experience. We ran into the bathroom in excitement as Easton laughed with accomplishment. We were proud, but she was even more proud! Very sweet.
My friend Jocelyn — who I turn to for all mommy advice — suggested I make a big deal over the incident and declare, "No more diapers." Good thing we had tried the big girl underwear as incentive already and were prepared with a package of the cutest Esme undies in Easton's closet. So Jocelyn, her daughters Dylan, 7, and Luna, 5, and I celebrated Easton as she put on her new purple panties with the pink lace. "No more diapers!" she exclaimed.
Easton taps me on the shoulder deliberately in the middle of the night — twice already this week — just to say, "Mommy, I need to potty." Now mind you, she had a diaper on in case of accidents, but my kid was determined to go all the way and make her potty experience a complete success.
Oh no, will I ever sleep again?! For now, I'm okay with these nightly potty runs because it's awesome to witness her pride and self-satisfaction. This is a big one — for our family, anyway. Potty-training seemed altogether confusing and elusive as we were nearing the three-year mark.
We have only had one accident so far. Easton was sitting naked as a jaybird (whatever that means) on a stool in the kitchen, watching her beloved Scooby-Doo on my computer when I heard, "Whoopsie!" I looked up to see a large stream of pee-pee spraying up like a fountain around her.
She was so disappointed. I truly felt her frustration. It always sucks to take a step backwards, but it happens all the time. We can't win them all! But we can keep trying.
— Elisabeth Röhm