Willow Smith Films New Music Video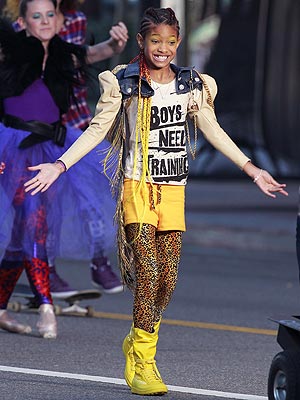 Fame
Willow Smith is on a roll.
Following the runaway success of her debut single "Whip My Hair" last fall, the 10-year-old pop star shot a video for her second single, "21st Century Girl," in Los Angeles this week, as dad Will Smith and mom Jada Pinkett Smith looked on.
Even big brother Jaden Smith, 12½, jumped in to help film his little sister.
Willow also recently debuted a snippet of her new song in a video post on her Facebook page.
The tween, who calls the new song "a dance record," is also hard at work on her album, reportedly due this spring, for Jay-Z's Roc Nation label.
"It is very cool, because Jay really welcomes me and makes me feel like the record label is a place where I can have fun and talk about my career," she told Vanity Fair's February issue. "He and his people make me feel like I'm a part of something. And I love Beyoncé — she's awesome!"