Fatherhood 'Surprisingly Relaxing' For Elton John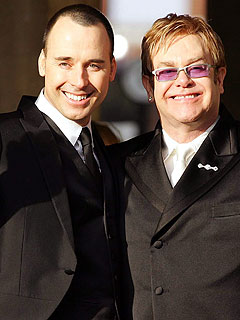 INF
He may drape himself in glitter and sequins while on stage, but at home Elton John says his demeanor is surprisingly calm, especially since son Zachary Jackson Levon was born Christmas Day.
"It's the most wonderful feeling," said John, 62, at a press conference for the animated film Gnomeo & Juliet — for which he composed the music — of being a father.
"It's been the most wonderful thing that's probably ever happened to me after meeting [husband] David."
The couple welcomed their son via surrogate in California four weeks ago.

Fatherhood, says John, "is surprisingly very relaxing because this little soul that you are feeding, changing, bathing and that you're telling bedtime stories to is a blank palette, a blank canvas and all it needs is love and nurturing."
But, jokes the singer, "When he gets to talking and running around I'll probably feel a little different. But the adventures in daddy-land — it's fantastic!"
— Jessica Herndon