Pete Wentz Credits Bronx for New Hairstyle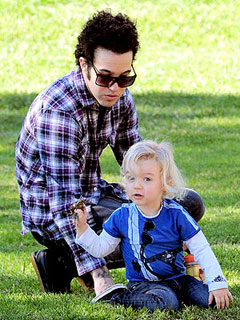 EM43/Splash News Online
Pete Wentz debuted a new and all-natural hairstyle earlier this month — and says his son Bronx Mowgli was the inspiration behind his new 'do.
"My son, he's got this full head of awesome curly hair, and when he gets out of the bath he's so stoked," Wentz, 31, told PEOPLE at the opening of his Angels and Kings bar at the Hard Rock Hotel in Chicago on Thursday.
"I want to get out of the shower and just be stoked, not think about how I don't want water to touch my hair. The amount of maintenance that went into my [straight] hair was ridiculous."

Bronx turned 2 in November, and his proud papa says it's an "awesome" age.
"He's really interesting, he talks and tells stories," Wentz says. "He can tell you about what he did that day and what he wants to wear, he picks out his own outfits now. It's an adventure."
Wentz says Bronx is already a big fan of music, but it's too early to tell if he'll follow in the musical footsteps of his parents, including mom Ashlee Simpson-Wentz.
"As fate would have it, he'll probably be into math or something," laughs Wentz. "Whatever he's into, he'll rock it."
— Nadine Shabeeb