Elisabeth Röhm's Blog: Roadtrippin' Ritual
Thanks for welcoming our newest celebrity blogger — Elisabeth Röhm! The actress, 37, best known for her role as Serena Southerlyn on Law & Order, wrapped a stint on Heroes last year and has a busy 2011 ahead of her. She can be seen on the big screen in the upcoming films Chlorine, Transit and Abduction, and plans to continue her role as spokesmom for Juno Baby.

In her latest blog, Röhm — who is mom to 2½-year-old daughter Easton August with fiancé Ron Anthony — shares a new ritual with her toddler — roadtrippin'!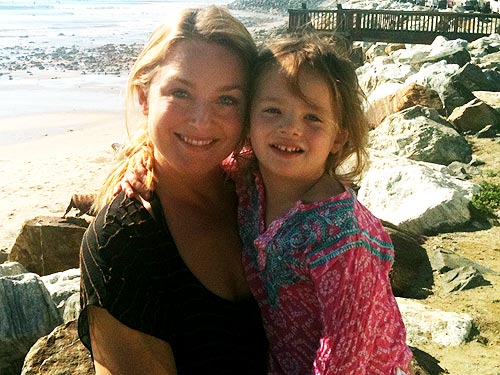 Courtesy Elisabeth Röhm
We take off in a blaze of glory! Just call us Thelma and Louise — or Mommy and Easton.
Of course we all know how important a little alone time is, right moms? An hour away can do wonders for the mini-breakdown we are sometimes verging on. Same goes for the alone time 'date night' prescribes to couples. Without this uninterrupted time together we might be wondering on a somewhat frequent basis, "Who is this roommate of mine?"
At our core, we crave adventure and desire to step away from the day's monotony. Whether it's girls night out, a weekend trip with your sister, a long-awaited getaway with your man or just a mani/pedi that gets us out of the house and away from the simple tasks that pile up around us, making us feel not nearly as spontaneous as we once were. We need to take off and leave our worries behind.
I've decided that the same 'getaway' theory brings a new joy to my parenting and puts a pep in my step. Easton and I have started a ritual — one that I hope sticks with us until we are having Eat, Pray, Love moments well into her thirties. We have come to love our roadtrips.
Sometimes when I wake bleary from her sweet feet pushing me to the edge of my bed and it's been a particular tossy-turny night, I find that I am far from the enthusiastic mother I see myself as. Instead of bouncing out of bed, we stumble towards our routine for the morning. We have our usual breakfast with some cartoons and the morning news. I check my e-mails and find that there is plenty of work to do. The house is slightly upside down, what with the toys, clothes and daily chores.
I take a sip of my coffee and think, "We need an adventure." Just like date night or a girly routine of some kind, Easton and I are seeking some R&R, some alone time that's all about she and I; a chance to see each other without life's little tasks getting in the way and distracting us. For her that would be Scooby-Doo, and for me it might be some work-related something that will still be there when we return from our hour, afternoon or slumber party at some destination a few hours from home.
Now you get the Thelma and Louise reference! Not only are these outings more fun than going to the park again and again, but it is deeply satisfying sharing special memories that are ours alone. We are creating a thread of consistency and discovery that we can share for a lifetime. Not to mention that it is super-duper cute to pile into the car and hear Easton's sweet voice say, "Let's hit it!" I return with, "Let's hit the road!" and we are off on an adventure — even if it's merely for an hour. There is something to be said when the alone time isn't about consumerism but about seeing something new.
I always felt like my mother had a deep respect for me as an individual, even as a little girl. The time she spent with me outside of our routine made me feel as if we were friends. It started us on a road that we continued on as good communicators. We loved sharing our time together. Until my mother passed away last year, I told her everything. Most importantly it opened the door to the best club around: The Girl's Club!
The alone time also applies to daddies. I have seen Easton blossom when she spends time with her dad. Even if it's a park visit for just the two of them, a certain confidence emerges when they have returned home. It's as if Easton has been initiated into a secret adult world where she sees and does things differently from the norm when a parent truly hangs with her. I learned early on to support them having 'their' time so that Mommy wasn't a distraction in them building a meaningful relationship.
So, Easton and I constantly "hit it" and do activities that aren't run of the mill. There is something to be said about singing loudly to tunes in the car, the wind blowing through our hair as we take off to see a corner of the world — or at least our neighborhood.
Rituals of all kinds are important. Even if it's the simple memories I have of my mom and I going to the local Greek diner to eat cheeseburgers and disco fries, read Archie comics and our latest horoscopes. It was something we did together and nothing seemed to distract her from me when we'd have our outings.
Being there and loving in a consistent manner are the cornerstones of parenting. Really listening, catching the hints of who they are, knowing them and accepting that maybe they are different from us and seeing these nuances in their personalities is also a part of our promise of parenting.
But let's face it moms, life gets trying and the routine sometimes gets stale. I have found that the more we get out of our environment the more we truly notice each other. This is equally applicable to our marriages and friendships. Everyone needs a little alone time and sometimes we really need it together far more than we know. Most importantly we need to help each other keep life spontaneous, joyous and exciting!
Here's to your next adventure — even if it's just around the block!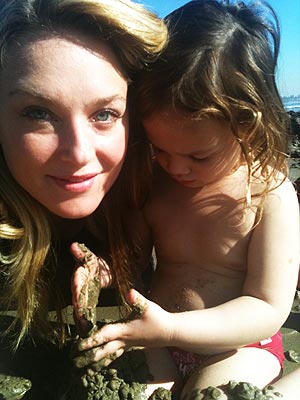 Courtesy Elisabeth Röhm
— Elisabeth Röhm