Cristiano Ronaldo: Of Course I Change Diapers!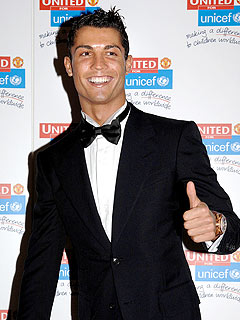 Shirlaine Forrest/WireImage
He makes a living with his feet, but Cristiano Ronaldo isn't afraid of getting his hands dirty when it comes to being a new father.
"Of course I change the [diapers]. It's not the thing I like best in the world, but I do it," the Portuguese star of Real Madrid tells the Spanish sports daily Marca, as reported by Britain's Daily Mail.
Ronaldo, 25, says he's a different man since the arrival of Cristiano Jr., who was born last summer to a mother who remains anonymous — but is being raised solely by Ronaldo and his mother.
"Of course something like this affects you," he says. "It's a different type of responsibility."

Will he be teaching Cristiano Jr. his famous soccer tricks when the boy starts walking? "I would love him to like football, for him to be my successor, but we'll see what happens," Ronaldo says. "My son will be whatever he wants."
But while he has embraced fatherhood, Ronaldo doesn't sound like he wants to rush into marriage. Asked whether he plans to marry girlfriend Irina Shayk, a 24-year-old Russian underwear model, he replies: "One day, you never know. It's early."
— Tim Nudd