Felicity Huffman's Home Décor for Daughters? Pillows!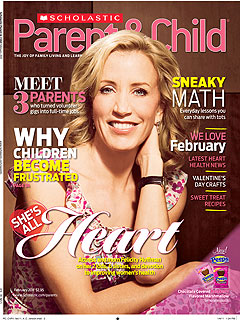 Courtesy Scholastic Parent & Child
They say it takes a village to raise a child and no one knows that better than mother-of-two Felicity Huffman.
"I don't feel like I have an ingrained talent for parenting. A lot of what I know comes from my sisters and what they've done with their children and books I've read," the actress, 48, tells the February issue of Scholastic Parent & Child.
"Since I'm one of eight, I make a lot of decisions by committee. My husband [William H. Macy] makes a joke that in order for my sisters and I to figure out what movie to go to, it takes 13 phone calls and two people crying."

That said, the family of four — including daughters Sofia Grace, 10, and Georgia Grace, 8½ — have a handful of traditions of their own. After welcoming their first child in 2000, Huffman admits romantic holidays such as Valentine's Day have taken on a whole new meaning.
"Once we had kids it became a family holiday that we all celebrated together," she says. "I get those heart-shaped boxes of chocolate for my kids. We exchange flowers. I make cards for the girls every year, and they make them for me."
Despite the continued success of Desperate Housewives and Macy's own busy acting schedule, Huffman makes it a point to spend quality time with her girls in their home. Come nighttime, the family can often be found reading aloud and cuddling close on their custom-made throw pillows.
"Well, when the girls were little I sewed these big pillows for reading. They're kind of like big dog beds — pillows on the floor that everyone curls up in," she shares. "So it's like this nook and we'd all crawl into the nook after everyone had gotten into their pajamas and we would read for half an hour."
In fact, adds Huffman, her home décor has been adapted to incorporate the pillow frenzy — much to the chagrin of family friends!
"After a while I started making more pillows. A friend of mine made fun of me because I put them in the living room. I put them in the attic. I put them everywhere!"
— Anya Leon