Natalie Portman: Fiancé Is the 'Best Actor'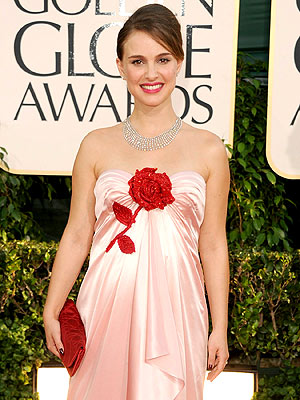 Frazer Harrison/Getty
There were great expectations about Natalie Portman's Golden Globes night: Would she win a best actress award — and what would she wear?
On both fronts, the evening delivered.
The mom-to-be won best performance in a motion picture drama for her turn as the disturbed ballet dancer Nina Sayers in Black Swan, and she thanked her fiancé Benjamin Millepied, with whom she's expecting her first child.
"He's the best actor," she joked of Millepied, who choreographed the film and also costarred in it as a dancer who said he was not sexually attracted to her character. "It's not true," she laughed onstage. "He totally wants to sleep with me."

Before the ceremony, Portman, 29, showcased her baby bump and glowed in a Viktor & Rolf gown and Tiffany jewelry on the red carpet.
"I'm really bad at taking compliments [and] congratulations, that kind of thing," the actress told Ryan Seacrest before the show. "So, I'm going to squeeze it into one thing. Everyone can be like one big congratulation."
She also told Seacrest she's just starting to pick out baby names. "I've definitely been thinking about it," she said. "[I'm] open to suggestions."
— Brian Orloff