Jean-Paul Gaultier Debuts New Baby Collection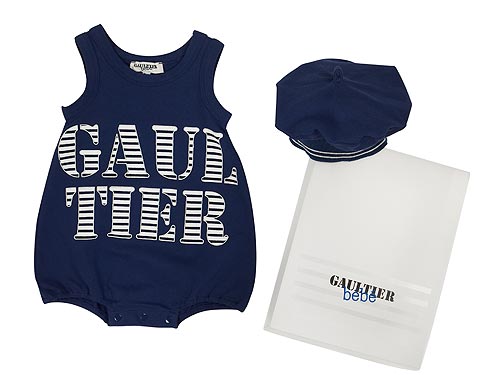 Courtesy Jean Paul Gaultier
Jean-Paul Gaultier designing babywear? Mais oui! Three years after launching his successful kid's line  — Junior Gaultier — for tots aged 2 to 17, French fashion's resident enfant terrible has set his sights on the layette look with a new collection for infants, Gaultier Bébé.
Created for babies from 0 to 2, it will include retro bonnets, jackets, denim dungarees, sweaters, dresses, tulle skirts and bodysuits — or as the French call them, 'grenouillères' (frogs) — in the designer's signature marine stylings in bold red, white and blue.
The bad boy stylist is expected to debut the new line at his upcoming Fashion Week show in Paris on Jan. 26. And according to French press reports, pieces will be available in shops later this spring.
For a sneak peek of his pint-size Spring 2011 collections, go to JuniorMagazine.co.uk.
— Peter Mikelbank