Kourtney Kardashian: Yes, I'll Take Some Help!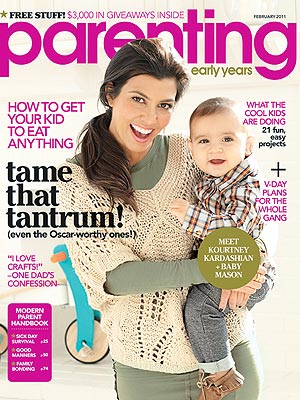 Courtesy Parenting
Turns out being followed by photographers — and your fan base — isn't such a bad thing, especially for first-time mom Kourtney Kardashian.
After agreeing to meet her sister for an afternoon of shopping, Kardashian and son Mason Dash, who just celebrated his first birthday, arrived not only to a waiting Kim, but to a large group of onlookers as well.
"It was my first time taking a taxi with Mason. I had to tell the driver to wait because I had to get the stroller out of the car," Kardashian, 31, tells Parenting's February issue.
"I'm smiling and trying to open the stroller, but it wouldn't open. Then one lady asked if I needed help. I said, 'Yes, I would love that!'"

Reflecting back on her "first public — and very embarrassing — new mom moment," Kardashian looks forward to the day her sisters will experience the struggles themselves.
"I can't wait for the day that my sisters find out how hard it is," she muses. "They try to tell me, 'Do this and do that,' but they just don't know!"
However, other than the pursuing paparazzi, Kardashian insists she is like any other mother. In addition to making Mason's baby food from scratch — and continuing to nurse — Kardashian and boyfriend Scott Disick are also co-sleeping with their baby boy.
"If I've had a long day, then I have that time at night, which is really important to me," she explains. "Mason did fall on the floor once by mistake. It was the worst moment. I freaked out … so I emailed the doctor at four in the morning. I've since moved the mattress to the floor. I put pillows all around too."
According to Kardashian, the family's sleeping habits work for the couple. "Everyone needs to make the best choices for their life," she explains. "He's such a happy baby and I really think sleeping together has something to do with that."
Although Kardashian admittedly does not follow a schedule when it comes to Mason's routine, noting "you do whatever fits your lifestyle," there is one issue the hands-on mom isn't willing to negotiate: when she's not working, neither is the nanny.
"I don't want to judge, but I've also met women who think it's cool to be out or away from their baby, and I don't get that," Kardashian says. "Every time I'm not working, he's with me. Even on an airplane, he is with me even if the nanny is also on the plane. Any time I can have with him, I am lucky to have."
But Kardashian's favorite babysitter for her son? Stepfather Bruce Jenner.
"Out of everyone, I call [Bruce] for help the most," she shares. "He's … a perfect role model for him. He takes Mason to the car wash for 'man time.'"
For more from the interview, including photo shoot outtakes, visit Parenting.com/Kardashian.
— Anya Leon