Zig-A-Zig-Ah! Get Fit with Mom-of-Two Mel B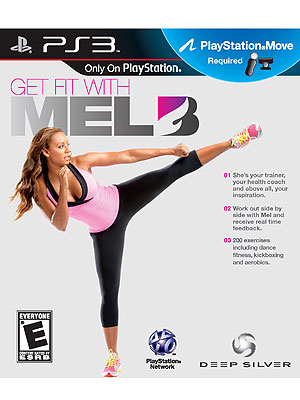 Courtesy Deep Silver
We know a lot of you made a New Year's resolution to hit the gym, but we also know how hard that is when you have little ones at home.
Not to fret: There are other ways to stay toned that don't involve leaving the house, including Get Fit with Mel B ($40), a new videogame led by Scary Spice herself, Melanie Brown.
"It's got 25 different exercises, and gives you different goals, like to get bikini-body ready," the mom-of-two tells PEOPLE Moms & Babies.
"It designs a six- to eight-week program you can stick to … It's a really good, personalized game."
Available for PS3, the game uses body scan technology to digitally place you next to Brown, letting you do exercises alongside her.
"It's all my workouts," she says. "I filmed more than 250 different exercises over about four or five days — they days were quite long!"
The game also includes a food-based component, offering recipes, calorie and carbohydrate counters, advice on portion control and more. "Everything was approved by a nutritionist," she shares.
Though the singer has flaunted her famous physique on Dancing with the Stars and Dance Your Ass Off, she says it's those little things — like squeezing in quick workouts and keeping an eye on your food intake — that really count.
"[The game] is making things easier for the stay-at-home mom, the working mom, and for the whole family," Brown says. "It's all about what you put into it."
Check out the game at Getfitwithmelb.com, and follow Brown on Twitter (@officialmelb) for more workout tips and tricks!
— Kate Hogan