Neil Patrick Harris Is Smitten With Twins' Smiles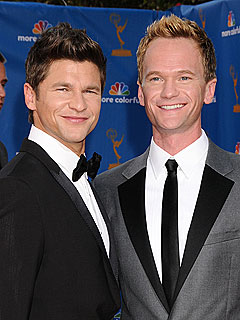 Gilbert Flores/Celebrity Photo
All of Neil Patrick Harris' hard work during the first few weeks of fatherhood is finally paying off.
"I love when they're smiling. That sounds very glib, but for a little while they don't," the actor, 37, said Wednesday at the People's Choice Awards.
"You're just kind of holding and hoping nothing goes wrong and now they're starting to smile."
And while Gideon Scott and Harper Grace, 3 months this week, have smiles that melt Harris and partner David Burtka's hearts, the How I Met Your Mother star admits their laughter might really stop him in his tracks — literally.

"Once they start laughing, I'm going to be head over heels for those two," he muses. "Well, I already am, but then I'll think they're laughing at my comedy so I will never leave the house."
There's no doubt that double the babies also equals double the gear, but among all of the gifts given to the new family, Harris says there is one stand-out the new dads couldn't live without.
"The Moby Wrap. It's this gigantic piece of fabric that you wrap around and around and around yourself until you look like you should be doing karate and then you sort of put them in and wrap them around and then you can carry on with your day," he explains. "They just stay put and go to sleep."
— Anya Leon with reporting by Nina Tyler