Michelle Williams: My Age Finally Matches My Life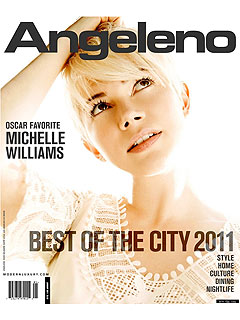 Courtesy Angeleno
There's no doubt: Matilda Rose Ledger is growing up. And, according to mom Michelle Williams, gaining her own sense of style.
"Her hair is down to her chin and she has decided she can have her bangs trimmed, but she doesn't want a bob anymore," the Blue Valentine star tells the January issue of Angeleno magazine.
"A bob is cute for a three-year-old, but she is five now … it's crazy how fast time is going for me and how agonizingly slow it is going for her."

So slow, in fact, that Matilda is proud to include each and every day that goes by in her age count. "When she was four she would say, 'I am four and a half, I am four and five-sixths, four and seven-eighths,' because all the increments mattered," the actress recalls.
Williams herself is no stranger to being a little fish in a big pond; When she was only 15 she moved to Los Angeles on her own. "I've done a lot. I have taken on a lot of things earlier than would be the standard in terms of working, of being in a serious relationship and of having a child," she admits.
"I was 25 when I had Matilda and so I feel like I have caught up to myself, and 30 feels like a number that maybe matches all those things a little bit better."
However, Williams treasures her career's journey, including her Academy Award-nominated role in Brokeback Mountain, where she met Heath Ledger. "I was just an actor who happened to be lucky enough to be in the right place, and it was the place where I met Matilda's father, and that is a lot," she reveals.
"It was a lot. And it will be a lot for Matilda too, when she gets around to watching it. I will watch it with her, when she's ready. It is hard to imagine what that would feel like, but one day, yes, we will watch it together."
— Anya Leon