Katie Holmes Gets (and Takes!) Fashion Advice from Suri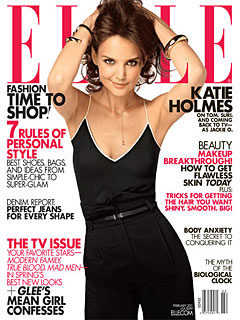 Courtesy ELLE
At age 4½, Suri Cruise is already a seasoned fashionista.
Katie Holmes and Tom Cruise's daughter has been spotted in everything from Burberry dresses to silver pumps. And it turns out that she's not only picking out her own clothes, but she's not afraid to give her famous parents style pointers.
"She'll really tell me [what she thinks]," Holmes, 32, tells ELLE in their latest issue.
"Like today I'm wearing brown suede pants, and she said, 'I don't like your pants.' But then she'll say, 'You've got to wear these shoes.' Or 'That's so pretty, Mom. Wear that.' She's got a great eye."

The actress, who co-designs her own clothing line, Holmes & Yang, has obviously passed on her flare for fashion to Suri and the two are often spotted shopping together.
"The other day we came out of a store, and she said, 'I want to go there,' pointing at another store quite a distance away," Holmes notes. "In that store was the dress that she wanted. I said, 'Wow, Suri. You're something. You picked that out from a football field away.'"
— Alla Byrne