Keep Baby Snug with True Womb Sleeping Swaddle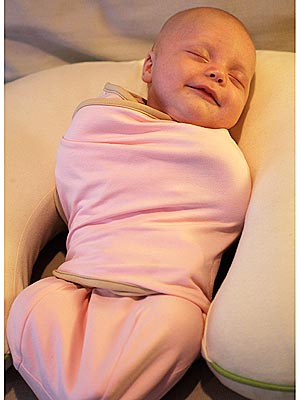 Courtesy True Womb
We all know how much newborns love to be swaddled. It makes them feel comfortable, secure and safe. And, most importantly, they sleep better.
Now you can wrap baby up in the same snug fetal position they enjoyed for nine months with the True Womb Sleeping Swaddle ($40).
Designed to keep mini feet and arms tucked in tight, it helps infants relax immediately.
And as babies get older and no longer need full swaddling, there's a Weaning Swaddle ($40) that features a T-shirt top design.
Both styles are available in three soft colors (mint, pink and blue) and made with a super soft cotton/spandex fabric.
Our only complaint: Opening the velcro is noisy enough to awaken a sleeping baby during a middle of the night changing. But no worries, your tot will fall asleep right away once swaddled again.
— Stephanie Phoenix