Amy Adams Explains Daughter Aviana's Name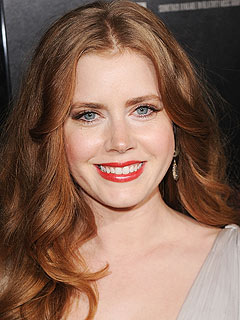 Jason Merritt/Getty
When it came to naming her now 7-month-old daughter Aviana Olea, Amy Adams surprised even herself with her final choice.
After declaring herself a traditionalist, the actress and fiancé Darren Le Gallo instead chose to pay homage to Adams' birthplace of Aviano, Italy.
"We had picked out a whole bunch of other names as well and we had thrown around Aviana, but I was into more traditional names and thought that we would go that direction," The Fighter star shares during a visit to the Rachael Ray Show, airing Friday.
"But, when she was born we just kept calling her, 'Avi, Avi, Avi.'"

Reflecting on her last visit to the show, Adams admits the benefits of motherhood even extend to her professional life.
"Oddly enough, I'm more relaxed. I'm not nervous sitting here talking, last time I was here I was just a mess," she reveals. "[Aviana's] so calm, I think she calms me down. She was born mellow … So I roll with her punches, she's great!"
Excited to celebrate baby girl's first Christmas, Adams, 36, laughs there's no need for presents — just wrapping paper! "We are at home, we're just going to stay home and be really quiet. And hopefully keep it small and intimate," Adams says.
"It'll be fun! She'll be more into the wrapping paper I'm sure! She's really into eating paper right now, you know, because she's a baby."
— Anya Leon