Amy Adams: Losing Pregnancy Pounds Not a Priority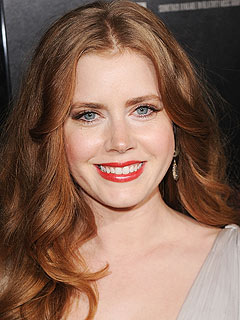 Jason Merritt/Getty
The end result of pregnancy gifted Amy Adams with much more than a baby; The new mom to 7-month-old daughter Aviana Olea also learned a few life lessons.
"Being pregnant finally helped me understand what my true relationship was with my body — meaning that it wasn't put on this earth to look good in a swimsuit," The Fighter star, 36, tells PARADE's Sunday issue.
"I was like, 'Look, I can carry a baby! I'm gaining weight right, everything is going well.' And I've had that relationship ever since."

That said, Adams is well-aware that her career choice requires her to regain her body after baby, but even so, she notes, she plans to do so at her own pace.
"I've been working out when I can … but losing weight is not my number one priority," she says. "It's part of my job to return to some semblance of what I was before. But I don't feel I've ever made my career on my rockin' bod."
However, Adams feelings during her pregnancy weren't always so positive. After discovering she was pregnant, the actress couldn't help but recall her final scenes in Junebug, in which her character delivers a stillborn baby.
"Because of how that film ended, a lot of women have talked to me about their own similar experiences and how much that character touched them," she shares. "Having played someone who went through that, I was terrified."
Concentrating her efforts on researching for baby girl's arrival and taking birthing classes with fiancé Darren Le Gallo, Adams eventually had a natural, drug-free delivery. "[Darren] was really calm," she reveals, adding that the couple have learned to work together.
"Now we understand the importance of teamwork. And if we have a disagreement, we work toward a solution."
— Anya Leon