Mariah Carey & Nick Cannon Are Having Twins!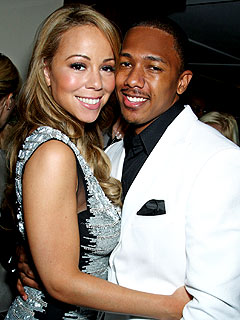 Marion Curtis/Startraks
Ever since Mariah Carey and Nick Cannon confirmed their pregnancy news, the world has been wondering: Is it a boy or a girl? Maybe even multiples?
On Thursday, Cannon himself put rumors to rest on his radio show, telling listeners, "We are having twins."
The two have been cautious about revealing too many details since they've had a "long journey" to parenthood, which included a miscarriage in 2008. But when President Barack Obama happened to ask about their babies-to-be, Carey, 41, just couldn't keep a secret.
While performing at TNT's Christmas in Washington 2010 on Sunday, Carey ran into President Obama and First Lady Michelle Obama backstage. "They, ironically enough, questioned my wife about, you know, 'So, what are you having, are you having twins?' " Cannon, 30, said Thursday morning on his 92.3 Rollin' With Nick Cannon radio show.
"And at this point she hadn't told anybody anything because doctors advised us to keep it to ourselves until we get further along," he said. "And because of the excitement, because of the emotion, she was overwhelmed [and] she shared with the President and First Lady that we are having twins."
Carey and Cannon have not revealed her due date.
— Kate Hogan