Michelle Stafford: Adoption 'Harder' for Single Mothers
When Michelle Stafford stopped to consider her accomplishments in life, she suddenly realized one thing was missing: children. However, her single status limited her options in starting a family.
"It's harder for a single mom to adopt than even same-sex couples," The Young and the Restless actress, 42, tells the holiday issue of CBS Watch.
"The attorney says to the woman who wants to put her baby up for adoption, 'I have this couple … and I have this single woman.' And that woman thinks, 'Well, I am single. So she is out.'"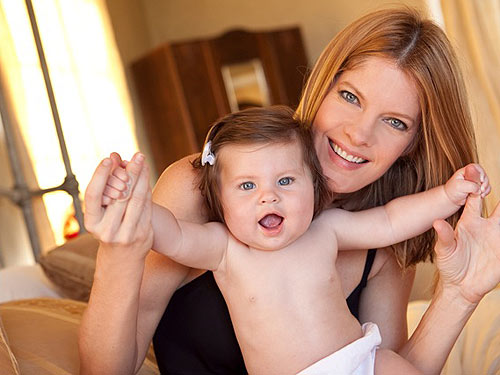 DuffImages.com
Turning to artificial insemination and later in vitro fertilization, Stafford's dreams of becoming a mother were put to the test when rounds of both medical procedures failed. "Some old broad would walk by us really pregnant and I would be like, 'Look at that b—-, she's older than me,'" she jokes.
That said, despite her sense of humor, the roller coaster ride of emotions eventually took their toll. "There were some very dark moments for me," she recalls. "They were drug-induced by the hormones, and the rage and depression I felt would be out of my control."
Finally, after discovering she would never be able to carry a child, Stafford focused her efforts on surrogacy — only to, once more, face an entirely new set of struggles. "One day my lawyer calls me and goes, 'We have a glitch. The judge does not see a single parent as legitimate … You basically have to adopt your [biological] daughter,'" she says.
Officially named her child's mother in the sixth month of pregnancy, Stafford faced one last hurdle before welcoming Natalia Scout Lee in Dec. 2009: the surrogate denied her request to give birth in the Los Angeles area.
With no official agreement within their contract, Stafford had no choice but to accept the refusal.
"She had every right to refuse," she admits. "And, eventually, I missed my daughter's birth. Even now I am very melancholy when women or men talk about the birth of their baby being the best day of their life."
As for a father for Natalia, the proud mama is confident everything will eventually fall into place.
"I am glad that I don't have a situation where her biological father is a schmuck. He is a fantastic guy," Stafford explains. "One day there will be a father, and we can go along the lines of adoption."
For now, Stafford is relishing her role as a mother — and looks forward to the day her daughter gives thanks!
"[One day, I hope Natalia says,] 'My mom is such a cool chick. I am so lucky that she went through all of that to have me. I am going to buy her a house in St. Barts,'" she laughs.
— Anya Leon