Spotted: Jennifer Garner's Eager Errand Runners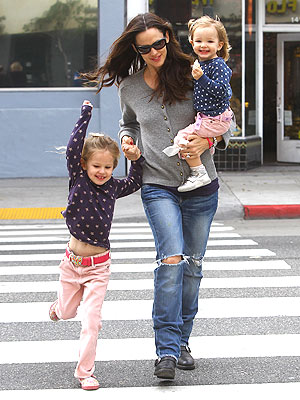 Splash News Online
A hop, skip and a jump!
Jennifer Garner and daughters Violet Anne, 5, and Seraphina Rose Elizabeth, 23 months, make a run for it Saturday in Santa Monica, where they made stops at Pottery Barn and Michaels.
"My sisters both are working mothers. I understand that my being an actress as well as being at home isn't some heroic thing," Garner, 38, notes.
"That doesn't mean it isn't confusing or difficult — especially that question of how you find a balance."
RELATED: Spotted: Seraphina Gets on Track