Kris Jenner Says Mason Loves Sweet Potatoes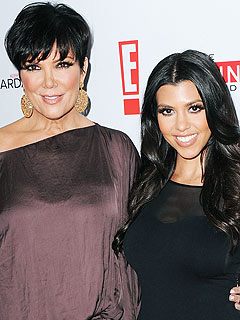 Jordan Strauss/Getty
Kourtney Kardashian's son Mason Dash is turning one on Dec. 14, and he's just reached a new milestone — eating table food!
"Mason is just getting introduced to regular food, because [Kourtney]'s been nursing forever," proud grandma Kris Jenner told PEOPLE. "He loves sweet potatoes! It works for the holidays."
Mason is also walking and "starting to talk," and his first words were about his mom … or so Jenner claims.
"I've decided it was 'mama,'" says Jenner, who recently teamed up with Curél Skincare and Searle to design the Barrier Coat for the charity One Warm Coat. "I'm going with that!"

Though Jenner tried to think of "a really cool grandma name," she's now going the traditional route and wants Mason to call her Grandma after all.
"What am I trying to think up some crazy name for when I just wanna be a grandma?" Jenner, 55, says. "I have so much admiration and love and respect for my grandmother, who I called 'grandma.' I want to be like my grandmother, I want someone to call me grandma. I earned this."
Jenner says the fact that Mason looks "exactly" like her ex-husband, Robert Kardashian, has brought "so much joy" to the family.
"He's a true Kardashian! He's this little darling Armenian baby," Jenner says. "To have this Armenian gene just keep flowing through this family in such a crazy strong way has been a delight for my entire family."
Jenner also praised Kourtney's mothering skills and called her the "best mom in the world."
"She's embraced motherhood, I've never seen such a great mom," Jenner says. "This has changed her life… I'm so proud of her."
— Nadine Shabeeb