Marissa Jaret Winokur's Blog: Celebrating 10 Years Cancer-Free
Marissa Jaret Winokur co-hosts the new CBS daytime chat show, The Talk, and is mom to 2-year-old Zev Isaac with her husband Judah Miller. Winokur, 37, was diagnosed with cervical cancer 10 years ago, had a hysterectomy and later welcomed her son with the help of a surrogate. Though her road to motherhood had a few twists and turns, she faces the same joys — and challenges — as any working mom.
In her latest blog, Winokur celebrates an amazing 10 years of being cancer-free.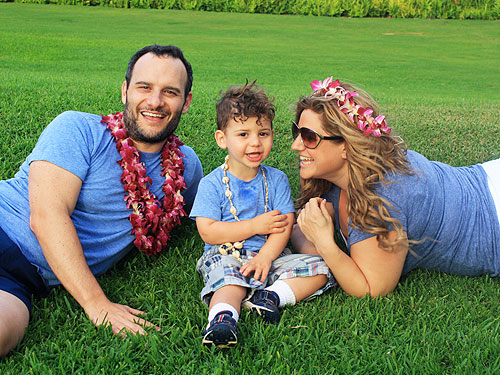 Judah, Zev and Marissa — Courtesy Marissa Jaret Winokur
Okay this week only — if you're reading my blog to find problems with me and looking to write mean comments, please stop reading now. Seriously, if I annoy you so much that you can't help but be mean, just stop reading. You can totally resume your negativity next week! But this week is all love and joy and happiness.
I want to share a very personal day with all of you, and my heart can't tolerate reading anything bad. But next week, feel free to read and find me a whiny, insecure spaz.
Today marks 10 years of me being cancer-free! Ten years ago, I had been dealing with my cancer for a while – I was diagnosed in August of 2000. In December of that same year, I was lying in a hospital bed, questioning my life and wondering what was in store for me before doctors operated to try to remove the tumor.
It's almost impossible to go back to that time. I was so deeply terrified and depressed. I was 27, an unemployed actress living in a really crappy studio apartment. I had just moved to Los Angeles alone, away from my family. I had cervical and uterine cancer and I was told that I would never be able to carry a baby. (Back then no one ever spoke of surrogates.) On Dec. 10, 2000 I learned I was free of cancer.
I have to admit that at the time of my surgery I was just thinking, "NO MORE CANCER." I wasn't thinking, "Oh no, I won't have a baby." But I can assure you those thoughts soon followed.
This blog, though, is not about the sadness cancer brought me. Instead, 10 years later I want to embrace it and share the happiness I have felt. Look, I try to have a very positive outlook on things in life but when you are told you have cancer you really don't want to hear advice like, "Look for the silver lining." You want to hear, "This totally sucks — let's get a drink!"
But after that drink I made the decision to literally kick cancer's ass. And after I did that, I was completely fearless. It wasn't death that upset me exactly: It was more wondering, "What have I done and what do I want to do?!" So I began living life pretty hard and doing everything I ever wanted to do!
Then I got married and wanted a baby. That's when it hit me. That's when the stress and sadness about being unable to carry my own child set in. And oh my God you guys, I WENT CRAZY! When people talk about a biological clock they are not f—ing around! I remember hiking with my girlfriend, weeping about wanting a baby and wanting one NOW!!
It was like a bomb went off in me and I had to be a mother!! I say this only because if this is happening to you (or when it does) it's totally normal. And if you have that bomb go off in you and you have to be a mom, then do it!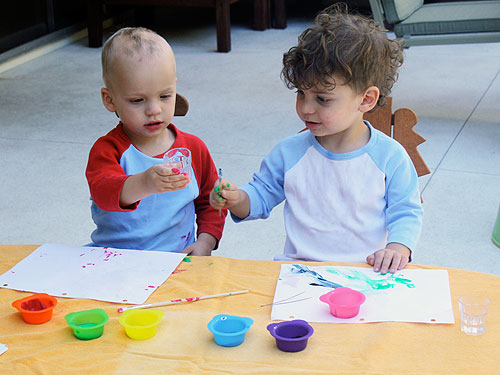 Best friend Jack and Zev — Courtesy Marissa Jaret Winokur
I learned quickly that it's not easy for anyone — everyone has their own story or issues. But at the end of the day when you go home with that child, no matter where he or she comes from, none of the b.s. matters. I was literally just giving Zev a bath and smothering him with kisses. I am so incredibly emotional this week.
I wish that 10 years ago someone could have told me about my future and said, "Everything will be okay!" It's better than okay, in fact! I love sleeping in my son's silly racecar bed. I love watching hours of Yo Gabba Gabba. I love long playdates with his best friend Jack and traveling with Zev. Most of all I love coming home from work and seeing Zev run up to me saying, "My mommy's home! My mommy's home!"
I never give him enough credit, but I love my husband Judah, who sat by my side in the hospital all day and night 10 years ago. I feel so lucky and blessed for every day I have had since "The Big C," and I'm just so happy to share this day with all of you!
I'm happy to share these memories for many reasons, but mostly because if there is someone out there reading my blog that just got crappy news themselves, I hope this inspires you to get up and start living! And know in 10 years it can all be "better then okay."
If you're lucky enough to be healthy and strong, take today to look at how lucky you are. I mean really — you may hate your job but who cares? Enjoy your family or friends and leave work where it belongs! If you hate your family or friends, then throw yourself into your work. 🙂
I have no regrets. I had an amazing surrogate who carried my son for me. I am so grateful to her. I can even say I am grateful for having cancer. I was always meant to be a mom, but if I didn't have cancer I never would have had Zev. I would have had a kid, but not Zev and I want Zev — tantrums and all.
At the end of the day, even cancer had a silver lining. It just took eight years for me to see it. Today I celebrate being cancer-free. What can you celebrate?! Please share with me, and more importantly, with yourself. Don't wait for a tragedy to see how lucky you are!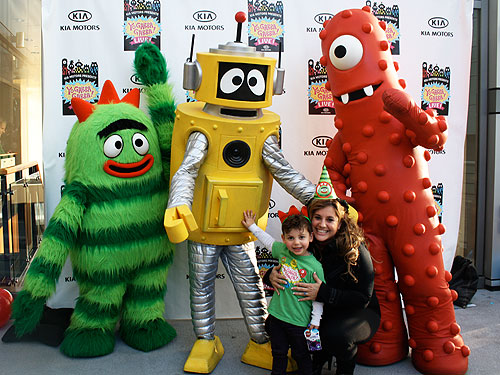 Zev and Marissa at Yo Gabba Gabba Live — Courtesy Marissa Jaret Winokur
— Marissa Jaret Winokur