Christopher Gorham: Alondra on Her Way to Calling the Shots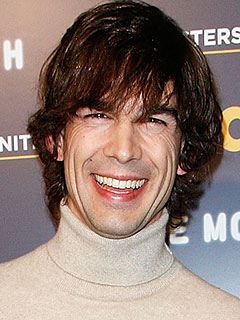 John Lamparski/WireImage
It looks like Christopher Gorham and wife Anel have their hands full.
With their youngest child, daughter Alondra Cecelia, turning 2 in January, the Covert Affairs star says she's already showing quite the personality.
"She's got an attitude so it's very clear when she gets a little older, who's going to be in charge," he told reporters at the USA and The Moth presentation of A Perfect Union: Stories of Prejudice and Power, held Monday in N.Y.C.
"Just three days ago, she spilled a container full of nuts on the floor and they spilled everywhere. My wife was like, 'Alo!' and she's like, 'Okay! I'm sorry! Sheesh!' and walks out the room. So she was immediately taking blame and being annoyed that we were bothering her all at the same time."

As for whether Alondra is holding her own with big brothers Ethan, 7, and Lucas, 9, Gorham says the boys are quite the influence to her — often to her mother's dismay.
"My wife is terrified because [Alondra] is talking and the boys are obsessed with Bakugan and Beyblade right now. So she comes in and wants to play Bakugan and Beyblade with them, and Anel is chasing her around with dolls going, 'Don't you want to see Olivia?'" he explains with a laugh. "But she's a good mix."
And with the holidays around the corner, Gorham, 36, says that Christmas is a whole other minefield — especially with the boys.
"We took [the boys] to see Santa and Santa asked them what they wanted. They both were like, 'I want an iPhone, and an iPad and an iPod Touch…' and Santa's eyes got so big, he was like, 'Really? Wow. Well.' And we're standing behind them with our hands in the air like, 'I don't know what to say.'"
— Shruti Dhalwala