Rachel Dratch 'Taking a Pass' This Holiday Season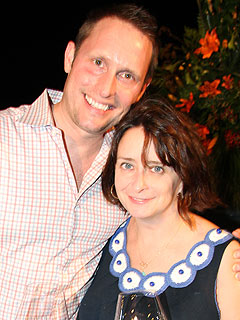 Moises De Pena/Retna
Actress Rachel Dratch will be spending her first holiday season with son Eli Benjamin a little differently than most. In fact, the new mom joked that may not be celebrating at all!
"He's not conscious of the holiday yet so I'm taking a pass. I don't have to go all out yet," Dratch, 44, told PEOPLE at the LAByrinth Theater Company's 8th Annual Gala Benefit.
"I should have lit some Hanukkah candles but I haven't even done that. I don't know what Christmas is going to bring, probably the same thing. [My son's] dad is not Jewish. We haven't even discussed any of this."

Although the first time mom may be skipping the festivities, she admits that she has been contemplating the idea of starting at least one tradition for 3-month-old Eli.
"Maybe I'll do one of those holiday cards [like] I get every year from people with kids. Now I'm going to be one of those annoying parents," the Saturday Night Live alum said. "Maybe that will be my thing. I'll finally be one of those people with the cards."
This holiday Eli will be giving Dratch and boyfriend John Wahl, a consultant to natural foods businesses, a very special gift that only a parent will understand.
"[Eli] likes having his diaper changed. That is my holiday activity," Dratch joked. "That's a daily gift."
— Isley Kasica