Alana de la Garza Is Ready to 'Combat the Chub'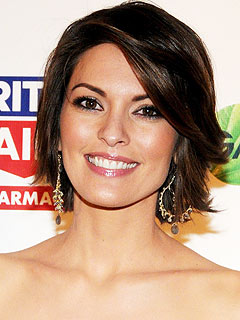 George Napolitano/Getty
For Alana de la Garza, there's nothing like a little motivation when it comes to shedding the pregnancy pounds.
Following her six-week recovery after "unfortunately" undergoing a c-section to deliver son Kieran Thomas on Oct. 6, the former Law & Order actress has hit the pavement running — literally!
"My method? I chase my husband [Michael Roberts] around the neighborhood as he sits in the back of a pickup truck, holding a fishing pole with an ice-cream sandwich dangling seductively from it," the new mom tells Latina.
"I'm joking … it's actually a cheeseburger!"

Despite her lighthearted approach to losing the weight, de la Garza, 34, is well aware of the underlying pressure to regain her body after baby. "At first you lose a ton of water weight and that feels great. Then you look in the mirror and say, 'What is that little layer around my waist? Ugh!'" she says.
"The only issue I have with it is that it needs to leave my body. I think women are too hard on themselves. I have 12 more pounds to lose and I'll have to work for it."
Focusing on a well-balanced mix of cardio and Pilates, de la Garza — who adds that breastfeeding has also done wonders for her body — even incorporates her son into her routines.
"I also enjoy taking brisk walks with Kieran before the sun goes down," she shares. "It's the only way I have found that works to combat the chub, especially because I'd like to drop the weight faster."
That said, adds de la Garza, despite her "full-fledged battle" to lose the weight, "Kieran is so worth it!"
— Anya Leon