For Two Fitness: Stylish (and Comfy!) Workout Tanks for Moms-to-Be!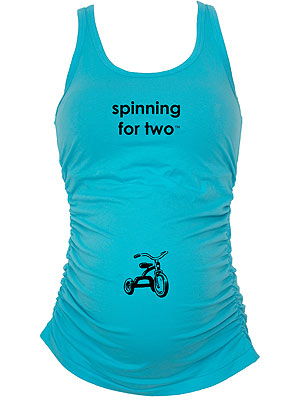 Courtesy For Two Fitness
Maternity clothing options have improved greatly in the past few years. But workout wear seems to be the one area that's lacking.
Whether you're pregnant or not, no one wants to throw on a baggy tee and sweats to head to the gym. Not only does it look sloppy, but loose clothing is really hard to exercise in.
That's why we're loving the new line of tank tops from For Two Fitness.
Each comfy style is crafted with soft, high-performance fabrics that stretch to fit even the roundest bellies. Plus, they're covered with super cute slogans including Spinning for Two or Six Pack Abs ($40 each).
Want a plain top? They have those too!
Even better? They'll keep you looking and feeling cool while you're working out. And, you can even rock them after baby arrives.
Shop the full collection at Fortwofitness.com.
— Stephanie Phoenix