Pat Monahan's Blog: Gifts vs. Moments
Thanks for welcoming our newest celebrity blogger — Pat Monahan! The Train frontman is dad to two teens — Patrick, 17, and Emelia, 13 — as well as Autumn, his 2-year-old daughter with wife Amber.
In addition to Train — who have a holiday hit with "Shake Up Christmas" and were just nominated for a Grammy for Best Pop Performance — Monahan also voices the lead character on Sprout's Driver Dan's Story Train.
In his latest blog, Monahan, 41, reminiscences about his favorite childhood memories, shares his hopes for his own kids — and opens up about resolutions for the new year.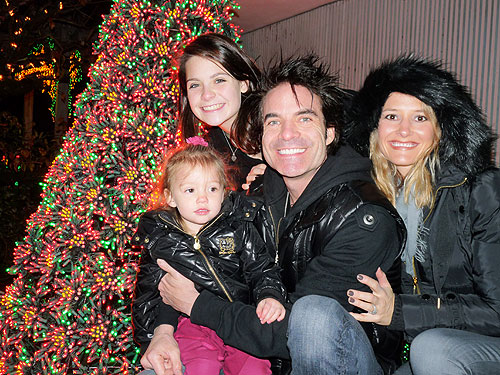 Autumn, Emelia, Pat and Amber — Courtesy Pat Monahan
When I think back to my favorite things about my childhood holidays, I don't recall too many gifts. Most or all of my favorite things about this time of year are moments I had with people that changed my life.
I see myself on the steps at age 6, unable to sleep, peering around the corner trying to catch a glimpse of some grand event. I remember wrapping paper and laughter and tears when relatives went back to their homes or back to college. I remember the smell of the cookies my mother baked and the look in her eyes when she smiled at her babies (all seven of us!).
As I grew older and became an uncle, I hear new babies crying and giggling, and recall children throwing snowballs at my car as I wished I could join them — then chasing them to make it more exciting.
I remember the heart of the American holiday season. I remember having a broken heart during my first Christmas without my mother and the lost feeling of our family. I remember when our family was broken and I recall when we found ourselves again and laughed and ate and drank and laughed and cried and drank and … well, that's probably good enough — it got a little weird. ;)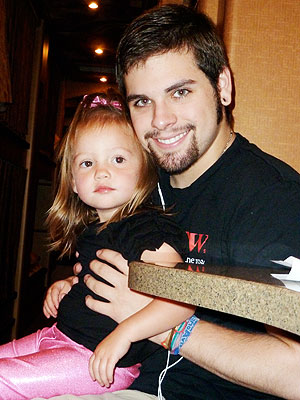 Autumn and Patrick — Courtesy Pat Monahan
I want my children to have that in their memory bank. I want them to look back and see us playing Candy Land and putting milk and cookies out. I want them to care about the moments, not the gifts and know that the moments ARE the gifts.
All I can ask of my children is that one day they look back fondly at a few moments I have provided them with during those seasons of joy. Even when there was no snow and few friends and family around, we have always had one another and we have always felt like we belonged to one another.
I want that for my children forever. I want them to know that they belong to something. They belong to the moments and memories that we have shared. They belong to me and I belong to them and if there is a stray person that seems to have no one then pull them in so they have something to belong to because we're all connected.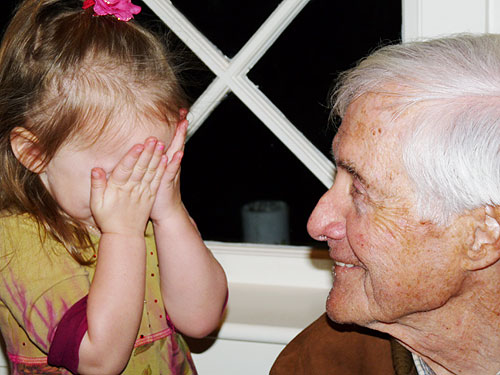 Autumn and her grandfather — Courtesy Pat Monahan
I've always thought highly of those who serve — whether they are serving in the armed forces or serving you coffee — and I love the ones who choose to do it with class and kindness. It's an honor to be of service. This holiday season and in the new year to come, I plan to be of service on a higher level.
It's time to shed some old habits and fill my space with more love, more humility and more forgiveness. It's time for me to give more of myself and expect less in return.
It is time to be more like my parents, who provided me with these amazing holiday memories that still make me tear up just thinking about their kindness and love. Even with seven children, they seemed to make us all feel individual and special. They weren't perfect and I sure as heck am not, but striving for perfection can be a heart breaker in the end. Time to be okay with doing my best.
So, thank you Mom and Dad for all of these great memories. I hardly remember even one gift other than the time and love you put in to making the holidays special for me and your other kiddos. Maybe some day my kids will look back and love their past as well.
Merry everything, everyone! I hope these times are filled with everything your hearts desire and a whole lotta love.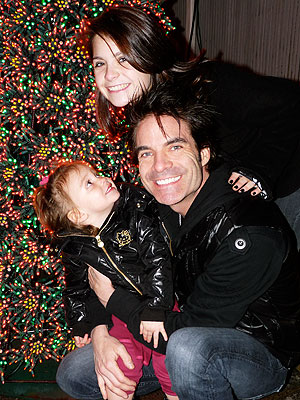 Autumn, Emelia and Pat — Courtesy Pat Monahan
Sending you love,
– Pat Monahan