Mariah Carey on Pregnancy Cravings: 'I'm Just About Fruit'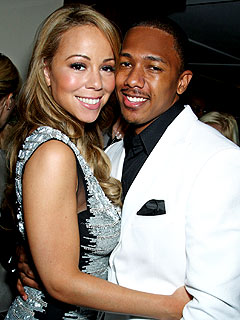 Marion Curtis/Startraks
Forget pickles and ice cream — Mariah Carey is sticking to healthy snacks when it comes to pregnancy cravings.
"My taste bud situation is unparalleled," the expectant singer, 41, tells Extra. "I don't know what it is, but I'm just about fruit for some reason."
That said, she won't accept just anything that falls off the tree. "It has to be really good for me to like it," she says.
Other side effects of pregnancy include expanding in more places than just her belly.
"My fingers obviously swelled a little bit," she says. "I can't even get this ring off if I tried."

The impending birth will even affect their holiday plans. Carey said she and her husband Nick Cannon usually go to Aspen, but will skip it in 2010.
"I can't go there this year because of the altitude," she explained. "We're figuring it out. Looking at different options."
While Carey is open about her new favorite food, she's not prepared to share certain other details — including confirming raging rumors she's expecting twins.
"I'm not telling anyone," she insists.
— Sara Hammel