Jodie Sweetin Introduces Daughter Beatrix Carlin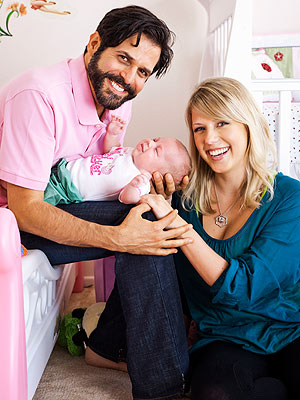 Marc Royce
On Aug. 31, Jodie Sweetin delivered a healthy 7 lb., 4 oz. … mini-me.
"She definitely looks like me," says Sweetin of 3-month-old daughter Beatrix Carlin, a.k.a. Bea.
"She came out with blonde, fuzzy hair, and when I look at my own baby pictures it's like she is me!"
Adds her proud father, Sweetin's boyfriend Morty Coyle, "She must have my insides because all the outside looks like Jodie."
Baby Bea was named for her dad's favorite band, the Beatles, as well as the late comedian George Carlin, and the decision was easy for her mom and dad.

"I wanted something feminine, but really unique," says Sweetin, 28. "Something kind of funky, a little romantic and old-fashioned."
But the naming process would have been far more difficult if the couple had a boy.
"I'd been vetoed on my main boy name," says Coyle with a laugh. Which was? "Cosmo," says Sweetin with mock disgust. "I refused. I was like, I really hope we're not getting a boy, because Cosmo is not happening!"
Baby Bea joins older sister Zoie Laurelmae, 2½, (her father is Sweetin's ex-husband, Cody Herpin) and the two are already getting along well — even if Zoie has more important things on her plate than a little sister.
"The first time Zoie met Bea, she looked at her and went, 'Beatwix? She was in mommy's belly?' We said, 'Yes,' and then it was, 'Look at my Thomas the Train balloon!'" the former Full House star recalls. "She's been really sweet with her, but it's also like, 'Okay, a baby. What's in this for me?'"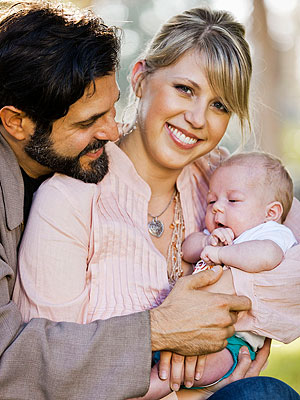 Marc Royce
Though they're now the picture of a happy family, Sweetin and Coyle, a singer-songwriter who's in a band, All Day Sucker, and deejays on the side, dealt with some serious post-delivery drama after Bea arrived via planned c-section. Within hours of the birth, Sweetin began bleeding internally and was rushed into emergency surgery.
Her doctor found two liters of blood in her abdomen, and determined that a subtle disorder called disseminated intravascular coagulation — which causes irregular clotting and continued bleeding — may be to blame, so Sweetin will undergo further testing.
"It was terrifying," says the mom of two. "I was in the ICU for two and a half days." "We're very fortunate that it turned out positive," adds Coyle, 41. "The doctor told me to call her mother right away. She almost died in surgery."
Luckily, after several transfusions, Sweetin pulled through. Now, she says, she's even more grateful to have Coyle — whom she met through a mutual friend in March 2009 — in her life.
During her ordeal, "he never left my side" and now with two small children (she shares 50-50 custody with Herpin), "he's an incredibly hands-on Dad. He puts on the Baby Bjorn and takes Bea to Trader Joe's. We take turns and he's just so wonderful and loving."
That applies to Zoie as well, who calls Coyle 'Papa.' "I love her as if she's my own daughter," explains Coyle. "But I am very respectful of what she has with her father. I like being Papa to her."
"Zoie adores him — we have a really nice little family here. I feel settled now," says Sweetin, who will celebrate two years of sobriety this December. "I think about all that I have to lose — the trust of my family and friends, my relationship, my kids. It's just not worth it."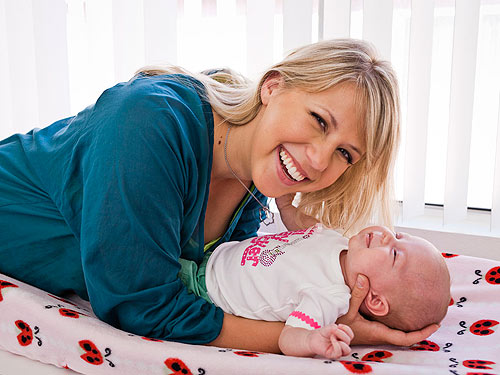 Marc Royce
— Rennie Dyball