Pink's Preferred Name for a Baby Boy: Jameson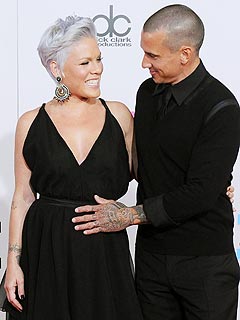 Ramey
Pink, who is a little more than three months pregnant, says she and husband Carey Hart are halfway there when it comes to naming their baby.
If it's a boy, says the singer, their first child will be called Jameson.
"My dad's name is James, and my brother's name is Jason," Pink, 31, told Access Hollywood.
"[Carey and I] are both Irish, Carey's middle name is Jason, [and] Jameson — we like whiskey. That's a no brainer."
There's just one problem: Their doctor believes they're expecting a girl. And, says Pink, finding the perfect name has been a struggle.

"We're all over the place," she says of the naming process. "I'm all about meaning, and Carey feels like he had a girl's hair cut and a girl's name, and he doesn't want kids to have a weird name. I have to get him on the boat for originality, so I'm working on him."
Even though she's chosen a boy's name that evokes a brand of whiskey, Pink says she's not tempted to drink alcohol at all — even if the doctor okays it.
"You know what? I thought I'd be like that – I couldn't even comprehend someone not wanting wine," the "Raise Your Glass" singer says. "But honestly, I just don't. I don't want anything bad."
— Sara Hammel