Samantha Harris Recalls Josselyn's 'Blissful' Birth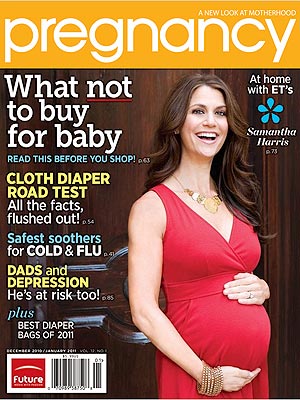 Courtesy Pregnancy
Delivering daughter Josselyn Sydney, 3, was "blissful" for Samantha Harris and — for obvious reasons — she's hoping for more of the same when she delivers her second child in January.
"It was like a private symphony in the labor room because it was quiet with low light," the Entertainment Tonight correspondent, 36, recalls in the December/January issue of Pregnancy.
"It was just my husband, my doctor and my nurse — so private and intimate."
In just 16 minutes — and with three pushes — Josselyn entered the world.
"I could only be so lucky to have this birth be identical," Harris muses.

Breastfeeding, by contrast, did not come as easily for mother and daughter.
Calling the first two weeks "very challenging" and "incredibly painful," Harris reveals that while she eventually "made it over the hump" the nursing relationship was fraught with complications — including four bouts of mastitis. Having weaned Josselyn on doctor's orders, Harris says she nonetheless intends to give nursing another shot.
"There's a lot that goes on with breastfeeding that's not fun, but thankfully there's also the coziness that you get to feel with the baby snuggled up against your breast," she explains. "Those moments with Josselyn I will cherish forever and I really do look forward to it with this baby."
The big day is rapidly approaching and Harris says her second pregnancy has gone by much faster than her first, due in large part to not knowing a baby was on the way until she was already eight weeks along.  While the surprise was a happy one, it also left Harris feeling anxious and she admits being "frustrated" with the timing.
"I'm very attentive to the changes that need to be made when you're pregnant," she says. "With Josselyn, I was able to be sure I was on the prenatal vitamins and alter my workout so my heart rate wasn't going too high, and stop the sushi and other foods you're supposed to avoid."
"I was definitely much more nervous throughout this pregnancy," she adds," and I continue to be nervous."