Felicity Huffman Dishes on Her Directorial Debut, Lesster
Felicity Huffman already has a lot on her plate — marriage, motherhood, her successful gig on Desperate Housewives. But the actress recently stepped up to tackle two more roles: director and writer.
This fall, Huffman signed on to Liberty Mutual's Responsibility Project, a campaign encouraging people to do the right thing when it comes to caring for our environment. The Oscar-nominated actress wrote, directed and starred in a short film called Lesster, about a plucky boy who tries to show his parents that their actions are hurting our planet. (Actor Danny Glover directed another film for the cause.)
Huffman recently spoke to PEOPLE Moms & Babies about her film — and what she and her daughters are doing to help save the world, one step at a time.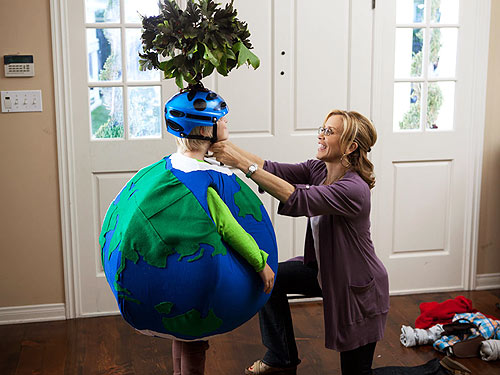 Courtesy Liberty Mutual
Why did you get involved with the Responsibility Project?
I've been interested in the word 'responsibility' for a while. When you break it down, it's your ability to respond. When people say, "I don't take responsibility," or "We need to take responsibility," it comes down to, "Am I able to respond to the situation at hand?" That always interested me. On a moral, ethical and personal level, and for the global community, where we are now.
So I said I'd love to direct. But I have a friend — Eva Longoria — who always takes opportunities and makes more of them. I'm not that way, but I wanted to emulate her. So I said, "I'd like to direct … if I can write it." And unfortunately, they said yes!
Is the environment a cause that's close to your heart?
The environment is near and dear to my heart. It's the start of everything. If we don't have a clean planet, we can't help save anything. I wanted to do a project about that. It was hard for me — I couldn't quite find a way. It took me so many months to write, what, 10 pages, in a way that didn't sound like scolding or preaching. All my early 10-page drafts were that way.
It took me calling my producer and saying, "I'm sorry, I have to cancel, my scripts are terrible." And he said, "We have a month before we shoot, you can't quit now!" After I gave up, I rethought it, and I came up with Lesster.
Was it hard to come up with the inspiration for the piece?
It's interesting how it came about. I always had a little kid in it, but suddenly I thought, "What'd I like to do when I was a little kid? I liked to dress up!" I'd pin capes on my shoulders, put underwear on my head.
I was also talking to a friend of mine who said she'd had a fight with her husband because he always left the shower on forever. One day she came into the bathroom, the shower was full on and he was doing push-ups, and said he'd just put the water on, even though she knew he hadn't. So it was a lot of pieces of common sense that came together.
What do you and your family do on a daily basis to help the environment?
At our house, we're always trying to unplug things, turn off the light. And my daughters (Sofia Grace, 10, and Georgia Grace, 8½) point out hypocrisy. If I don't turn off the lights, or I leave the water running, and they say something, I figure I've taught them well.
We also decorated recycling boxes, and once or twice a week collect items from our neighbors, go recycle them, get the money and donate it to an organization that plants trees across the globe. I'm making us sound more philanthropic than we are, though — we could always do a little more.
— Kate Hogan