New Moms Adriana Lima, Karolína Kurková Return to the Runway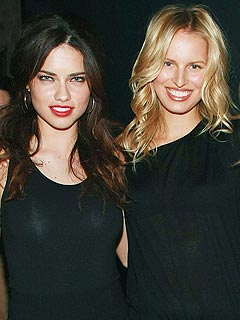 Dimitrios Kambouris/WireImage
After taking maternity leave, two familiar faces returned to this year's Victoria's Secret Fashion Show runway: Adriana Lima and Karolína Kurková.
"Coming back this year is quite exciting," Lima, who welcomed daughter Valentina last November, tells Access Hollywood.
However, her return wasn't quite smooth sailing; The "long road" of bouncing back after baby was filled with plenty of speed bumps.
"I wasn't sure if I was going to be able to lose the baby weight," Lima, 29, admits.
"To find time to go to the gym with sleepless nights is not easy — trust me. Every time Valentina would take a nap, I would go to the gym. So 50 pounds later, I'm here!"

Equally thrilled to be strutting her stuff on the catwalk once again, Kurková — who welcomed son Tobin Jack, now 13 months — is doing so with a whole new outlook on life.
"It's kind of fun doing it from a new perspective — as a mother," she says. "Not just as a young woman, but as a young woman who has a family, who has a son, who has a husband."
Joking that she has transformed into "this powerful mama who can deal with anything, do everything," Kurková, 26, is ready to tackle it all. "I take care of the house, I cook, I work, I walk the runway."
After all, she adds, donning her wings is all in a day's work.
"I said to my son this morning, 'Mommy's gonna be an angel for a day and then she's gonna be right back, okay?'" she laughs.
The Victoria's Secret Fashion Show, featuring performances by Katy Perry and Akon, airs Nov. 30 on CBS.
— Anya Leon