Marissa Jaret Winokur's Blog: Primping for Preschool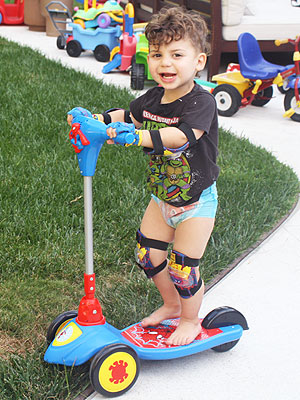 Zev's sweet ride – Courtesy Marissa Jaret Winokur
Marissa Jaret Winokur co-hosts the new CBS daytime chat show, The Talk, and is mom to 2-year-old Zev Isaac with her husband Judah Miller.
Winokur, 37, was diagnosed with cervical cancer 10 years ago, had a hysterectomy and later welcomed her son with the help of a surrogate.
Though her road to motherhood had a few twists and turns, she faces the same joys — and challenges — as any working mom.
In her latest blog, Winokur dresses up to scout out a new preschool for her son — and needs your advice on going away for work.

Okay, so I left the other preschool — not just because they saw me lock Zev in the car — but really (I swear) because it was so far away from my house. I actually started stressing out thinking about if there was an earthquake and I couldn't get to my son. I also noticed that the friends I did make there lived so far away that scheduling playdates became too hard to plan around L.A. traffic.
So I set out to find a closer preschool! Well who knew preschools were like colleges, with waiting lists and stuff?! OH MY GOD THEY ARE 2 YEARS OLD!!
Preschool Panic
The other morning, I got up an hour early and did my hair and makeup to go on a tour of a preschool. I didn't want to make the same fashion mistake I did last time (if you don't know what I'm talking about read my "mommy bullies" blog). I curled my hair and actually put on an outfit instead of just leggings and a sweatshirt! I wore a nice sweater, small heels and lipgloss.
When I drove up to the school, I decided to take off my heels and put on my UGG boots — the school looked big, who's going to look at my feet anyways? I actually laughed at myself walking in like an impostor, all dressed up and made up. I saw other parents dropping their kids off and I thought, "If my son goes to this school nobody here will ever see me dress this way again."
So I walk up to the front office basically in character. I thought, "What if I was cast as a well-put together mom who really had her act together?" I was so happy I was the first one there for the tour! It was 9:14 a.m. (it started at 9:15 a.m.) and no one else was in the waiting room. If this was a Top Model challenge, the other models were about to be disqualified! So do I win by default? Does Zev get in because he has the best put-together mom, who shows up on time and who would NEVER EVER lock her son in the car? I win, I win!
NOPE — I lose! The freakin' tour started at 9:00 a.m.! Yup. And it's so not my fault! My husband set up the meeting, but then couldn't attend. So now I am the mom wearing the weird combination of too much makeup and UGG boots! I race to where the secretary tells me the tour must be and they're already in the classroom. I find the classroom just a second before I thought I would, so as I walk in I am the mom on my BlackBerry cursing out my husband via text message.
I walk in and kind of fumble by making a bad joke about my idiot husband. No one laughs — but no one seems to care, either. As I look around, I am the only one dressed up! OMG! The other moms are so cool — wearing sweats and t-shirts and messy updo hair styles.
I want to shout, "I am one of you!" I want to scream, "I didn't take a shower today and I wore this last night!" But sadly it wasn't true. I've now turned into the people I hate! I spent lots of time getting ready so that strangers would think I was always this fancy — more time than I spent getting ready to go out for dinner with my husband and his friends over the weekend. I might as well be wearing skinny jeans and holding a latte for breakfast.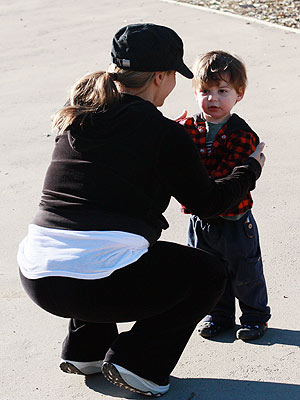 Mom and Zev on Thanksgiving '09 – Courtesy Marissa Jaret Winokur
Feeling Weepy
Anyway, I walked around the preschool, which was so cute and beautiful it didn't feel real. It felt like I was watching a movie of what a preschool should be. Soon, I became a total emotional mess.
First, we saw the classrooms for the 2-year-olds and the kids were so sweet. Then when we saw the 3-year-olds, I started feeling weepy! The kids looked so big and grown up. They seemed so much older than my little baby Zev! Oh no! Is he gonna be THIS big in one year?!
People always told me it goes by so fast and that before I know it, he will be all grown up. This was the first time I felt it. By the time we hit the 4-year-olds room, I was fighting back the tears! Seriously, I was on the verge of crying. I stayed after the tour to discuss availability. I have decided that this is where Zev needs to go! I have to wait to see if there is a class starting in January.
Then I ran home and spent the afternoon with my baby! I missed five phone calls and a billion texts — YES, one billion!! No multitasking for me — just mommying. I mommied Zev for as long and as hard as he would let me. I lied to my manager and said I was in a production meeting. I suddenly felt the same kind of separation anxiety that my son has been experiencing. I can't imagine my baby in that 4-year-old class. They seemed so big!
Tips for Thanksgiving?
Next week I'm flying off to N.Y.C. to cover the Thanksgiving Day Parade for CBS. I'm gonna be the mom on the street, so if you're there, say "hi" to me, and if not, watch me on CBS! I am so excited to go back to MY N.Y.C.!!
I was going to bring Zev but then thought it wasn't fair to make him fly six hours for just three days of being there, then fly six hours home. At this age, a long plane ride has to end in Walt Disney World or it's not worth it!
But it's my first time leaving Zev for more than one night! I am very stressed and am so worried about my lil' man. He is going to be so confused! Do I tell him? Or do kids not understand the time thing? Can I just say I'm "at work," not out of the city? 😦
My husband is taking Zev to my in-laws, so I know he will be full of candy and presents and maybe he won't miss me at all. I hope you all have a wonderful Thanksgiving. My advice: Enjoy your families and screw your diets!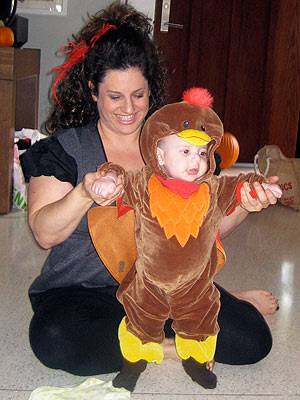 Mom and Zev on Thanksgiving '08 – Courtesy Marissa Jaret Winokur
— Marissa Jaret Winokur