Childproofer Kimberlee Mitchell Shares Tricks to Working with Stars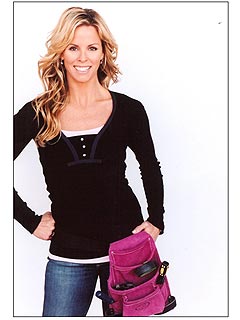 Courtesy Safety 1st Pros Service
Making your home safe for baby takes a lot of time and effort.
Or, if you're Britney Spears or Bethenny Frankel, you can just hire a pro.
PEOPLE Moms & Babies recently caught up with child-proofer to the stars Kimberlee Mitchell (left), who has also worked with Matt Damon, to get her take on the do's and don'ts of creating a danger-free kid zone and the unique challenges of working with celebrities.
Check out what she had to say below.
What do you have to consider before babyproofing a home?
First you go in and you assess the house for all potential hazards. I literally walk room to room, opening doors, cupboards, everything, and just seeing what's there so I can match up which product would work best in my head. You also have to consider the client's aesthetics, especially décor of the home.
Why is education so important?
According to Safe Kids USA, the number one cause of death for children between the ages of one and four is unintentional injury, which claims more lives than disease and violence combined. Between our homes and our cars, more kids are dying on our own watch than they are to disease and violence, which is mind blowing.
What do you recommend for readers with multiple young children?
For Nadya Suleman's home, we added two layers of protection (knob cover and top door) to keep a child out of a room. The wear and tear is something that you need to think about when you have multiples.
Why is it important to consult an expert?
Not only do we take care of obvious safety hazards, but we also find hidden ones that mom and dad may miss. Childproofing is not always straightforward and simple. It can be frustrating and challenging, which is where we come in. Overall, we help take a weight off of parents' shoulders so they breathe easy with their new tot around.
How important is it for the parents to be involved?
Very important. Once the devices are installed, we want every parent to feel comfortable maintaining them themselves. Bethenny is a big safety advocate. I called her a safety-savvy mama. She was very involved. Eventually, she was able to go room to room and spot potential hazards.
Ultimately, childproofing devices are implemented to give mom and dad more time to get to pull their little one away from danger. We all know that kid that has a scar on their eyebrow or on their chin. It's not just about keeping them from hurting themselves. It's mostly a way to help you supervise them and create cordoned off area where you can keep them close to you and know where they are.
Do you use different safety devices for celebrity homes?
There's only a limited amount of child safety devices out there on the market. And there aren't five star, super high-end baby-proofing products out there. Whether or not it's a celebrity home, the safety hazards and the way that we eliminate them is by and large all the same.
Do celebrity homes pose any unique challenges when it comes to baby-proofing?
Some of our celeb clientele have huge, expansive homes. The scope and difficulty of the work isn't really different from any other home, the size of the job is just bigger. Britney's house had some very interesting safety hazards. Her house had a big beautiful dining room, and there were breakables and beautiful décor in that room and I didn't want to have to remove everything. So we gated off the room on both sides and showed them how to remove the gates when they entertain. They had a pool, and there was a pool fence already installed, but a portion of it that wasn't working, so one of my staff fixed it.
How do you babyproof for celebrities with reality TV shows, like Bethenny Frankel?
Because they shoot "Bethenny Getting Married," in the home, there's a lot of electrical cords and lights around while they're filming. The lights are the really big hazards because it means lots of cords and plugs. Babyproofing during a shoot is close to an impossibility. But you can put sandbags on the lighting, and then black draping over it.
Are there rooms that are especially dangerous?
Any mom's closet is not a place for the little one to be alone. My recommendation is to bolt it and keep the baby out of there. There's way too many items (dry cleaning bags, belt loops, hand bag straps, jewelry, etc.) that can be dangerous for a baby.
— Nadine Shabeeb