Pat Monahan's Blog: Thankful for Thanksgiving
Thanks for welcoming our newest celebrity blogger — Pat Monahan!
The Train frontman is dad to two teens — Patrick, 17, and Emelia, 13 — as well as Autumn, his 2-year-old daughter with wife Amber.
In addition to Train — whose latest album Save Me, San Francisco has spawned the hit singles "Hey, Soul Sister," "If It's Love" and "Marry Me" — Monahan also voices the lead character on Sprout's Driver Dan's Story Train.
In his latest blog, frequent flier Monahan, 41, discusses the busy week ahead — and why he's ready to take a break for Turkey Day!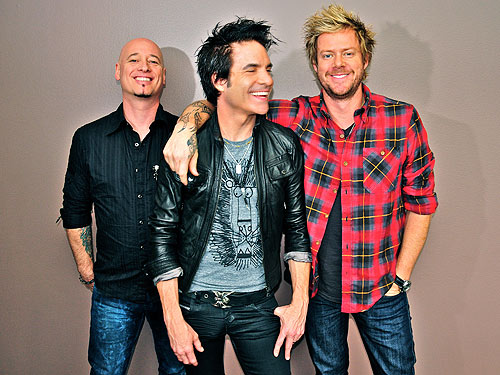 Jimmy, Pat and Scott – Courtesy Pat Monahan
Here I am in Guadalajara, Mexico. After coming from Brazil, Argentina and all over Europe, I am in a lot of airports and notice there is always one thing that picks me up from any mood — it's seeing a dad and his kid. I love it. Of course it makes me long for my children even more, but I love to witness the magic of a man recognizing life's most powerful moments. It makes me so happy for the entire family.
Me and the other Train guys get to see our kids soon for Thanksgiving and I plan on ODing on kid love. Of course I will be loving my wife as well! Thanksgiving has probably become the most anticipated time of year for us all because we get to break from the constant travel long enough to make our long-awaited connection to the real importance in life. We have the chance to ground ourselves so that we can get back at it and share music and love with a fresh, healthy attitude.
Side note pause … I'm listening to John Lennon as I write this and I plan on really trying to connect to his message on my next writing adventure.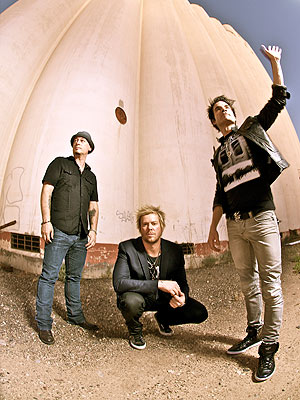 Jimmy, Scott and Pat – Courtesy Pat Monahan
I'm sending a few band shots today since we're all dads and we're all going through the same experiences as fathers. We tend to talk a lot about the lonelier times and we help one another feel more positive about our time away not being in vain. There has to be a sense of doing something reasonably important to spend this much time away from our families.
My heart goes out to military moms and dads … I know some that have to leave home for months without any contact with home whatsoever. That would be agony. I will be sending love and good energy to all of them this holiday.
Speaking of holidays — my kids are way into our new Christmas song, "Shake Up Christmas". It may at last be taking the place of "Hey, Soul Sister" as the 'booty-mover song,' at least for a little while. It will makes its debut in a commercial during the American Music Awards this coming Sunday. Hope your kids like it too. I might have to write a "Hey, Soul Brother" at some point though, that's for sure!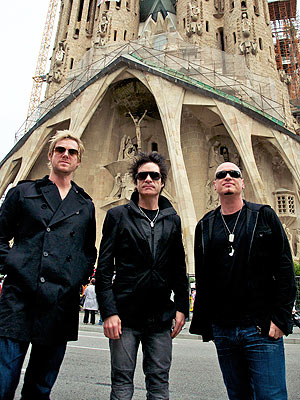 Scott, Pat and Jimmy – Courtesy Pat Monahan
Well, I have an early lobby call tomorrow morning as usual. We have a busy week — from radio and shows here in Mexico to shooting a video for "Marry Me", performing on the AMA's and being on Jimmy Kimmel Live, which will air the 22nd. I am planning on having my kids with me for most of these things — if I can talk school into it! — and then we have turkey. I can't wait to cook. It's what I miss most when I'm on the road, other than family.
I will talk to you all soon. Hope you've seen Driver Dan's Story Train. Autumn is WAY in!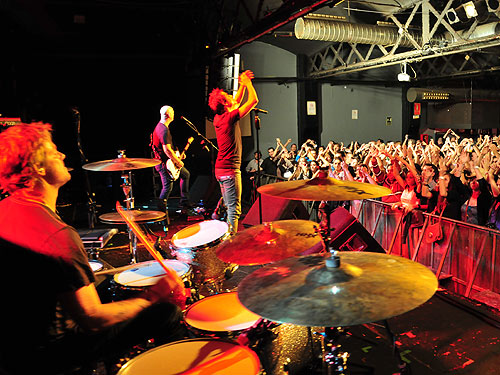 Rocking out onstage – Courtesy Pat Monahan
Sending you love,
– Pat Monahan