Matt Damon: Four Kids Is a 'Whole New Dynamic'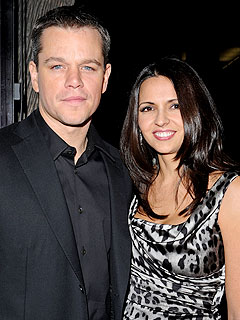 Axelle/Bauer-Griffin
A near barroom brawl — and a quick escape! — eight years ago left Matt Damon with a sweet memory he will never forget: meeting his wife Luciana for the first time.
"I was hiding behind the bar because I was getting hassled … I went [back] and [Lucy] said, 'What the hell are you doing here?' because I didn't work there and I was behind her bar," laughs the Hereafter star, 40, to Hello! Canada.
"I genuinely feel like — people have that saying about seeing someone across a crowded room — I swear to God, that happened to me … something incredible happened the first time I saw her."

Discovering Luciana was the mother of daughter Alexia from a previous relationship didn't faze the actor in the least, he says.
"I moved and suddenly it wasn't just my wife. It was her 4-year-old little girl — who's now 12," he explains. "There was never a choice. It was just the way it was, and I was happy for that."
The couple have since welcomed three more daughters — Isabella, 4, Gia, 2, and 4-week-old Stella — and life in the Damon household is anything but peaceful!
"It's been pretty crazy. The baby came a couple of weeks early. It's our fourth, so we've done it before — but it's a whole new dynamic," Damon notes.
While organizing a family of six will "take a little getting used to," the Damons believe they can do it all — until they realize they're outnumbered!
"In terms of juggling responsibilities, you're going, 'I'll do that. No problem, I'll do that,'" he jokes. "After a week you go, 'Wait a minute! We have to figure out a plan here.' The girls … all require different things."
That said, Damon wouldn't change a thing. "It was very different, it's true," he says of his path to fatherhood, "but I can't imagine my life having not gone down that road. I can't imagine what my life would be now. I don't want to imagine it."
— Anya Leon