David Beckham Says Sons Have Lost Their Accents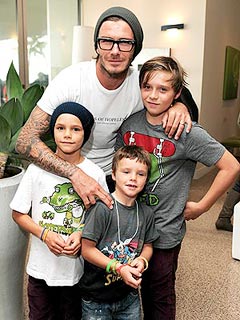 Jordan Strauss/Getty
Dad David Beckham may still have the undeniable twang from his London upbringing — but his three sons are so immersed in L.A. life that they speak like the locals.
"They've got total American accents now, all three of them," noted the soccer star Monday on ITV1's Daybreak.
"I was putting Cruz to bed the other night and I said something to him. He turned around to me and said, 'Daddy, you're so English,'" Beckham, 35, laughs.
"I was like, 'So are you actually,' but he laughed about it."

He and wife Victoria Beckham along with their boys — Brooklyn, 11½, Romeo, 8, and Cruz, 5½ — are incredibly happy with their life in California.
"We're really settled, we were settled from the day that we moved here because it's such a great place to live — such a great place to bring up the kids," Beckham explained to the morning show.
"We love London — that will always be our home without a doubt because we've still got a house there, we've still got all our family there. [But] to be able to pick the kids up from school and go to the beach, or play in the pool … Last year, Dec. 1st and the kids were in the pool messing around. When the kids are as happy as they are, you enjoy that."
— Simon Perry