Tony Hawk Talks Fatherhood and New Video Game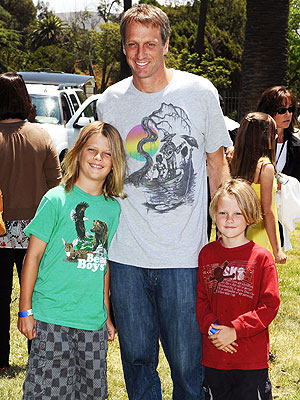 Lionel Hahn/Abaca
To pro skateboarder Tony Hawk, there's not a lot that can top the feeling of catching some air during competition.
But fatherhood to sons Riley, almost 18, Spencer, 11, Keegan, 9, and daughter Kadence, 2, definitely trumps all.
Recently, we got the chance to chat with Hawk about his busy bunch and his new video game, Tony Hawk: Shred ($60 to $100) — an interactive snow- and skateboarding thrill for Wii, Xbox 360 and Playstation 3.
Here's what he had to say.

How are the kids? My children are all doing well! Riley is well on his way to becoming a pro skater, traveling the world and touring with his various sponsors already. Spencer (above left) is an avid guitarist and he is in a band (called Cutback Curve) with his buddies. Keegan (above right) is still as crazy as ever and is a force to be reckoned when it comes to videogames. Kadence is 2 and exhibits all the fun qualities that come with that: feisty, sassy, and incredibly sweet.
Do your older three dote on Kadence? My boys love their sister very much. But she has a special connection with Keegan. They have very similar personalities and Kady looks very much like Keegan did when he was her age.
Are any of the younger kids poised to follow in your skateboarding footsteps? Riley is the only one that has pursued skateboarding seriously, and I am very proud of him for his determination and success at such a young age. He also does not rely on my name or influence for his own advantage. In fact, he disowns it as much as possible. It's fun to sit back and watch people be amazed at his skills.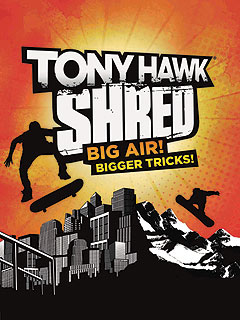 Courtesy Activision
Did your kids get to try the video game before it hit shelves? Spencer and Keegan were my in-house focus group for Shred. In fact, Keegan found level glitches in the early versions that the game's developer didn't know about. We fixed [them] quickly.
Tell us about Shred! Is it pretty similar to skateboarding? It's not nearly as difficult. The motions are very subtle but the exhilaration is similar. There is a great sense of accomplishment when pulling tricks because you physically trigger them. It could serve as an introduction to the real thing if skateboarding seems too intimidating at first. And the fact that we've included snowboarding gives you a whole other world to experience.
— Kate Hogan