Meet Luke Bryan's Second Son, Tatum Christopher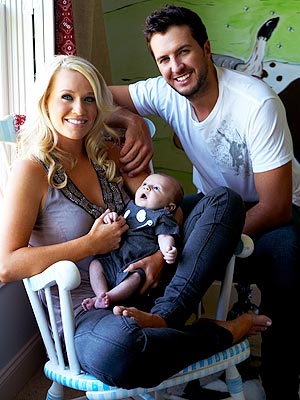 Caroline, Tate and Luke – Melanie Dunea
Like many new parents, Luke Bryan and wife Caroline were more than a bit nervous with the birth of their first child, Thomas Boyer, in March 2008.
"We were treating him like a Fabergé egg every time we picked him up," Luke, 34, tells PEOPLE in the December country issue.
Adds Caroline, "Bo had two surgeries early and he's had every illness you can get."
With the arrival of Tatum Christopher on Aug. 11, both parents admit they're considerably more relaxed.
"Tate is just chilled out — he doesn't throw up every time he eats and he sleeps," Caroline explains. "We're getting better. You just know the deal on the second one."

As for getting used to the new addition, 2½-year-old Bo has been the "typical" older brother, his parents say.
"Bo's done really well. He has his moments where he asks me to put Tate down," laughs Caroline. "He likes to hold him and kiss him."
"Sometimes he'll walk up and poke [3-month-old Tate] in the eye, but mostly he just tries to love on him too hard," Luke adds.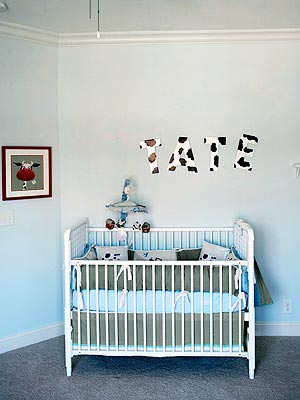 Barnyard-themed nursery – Melanie Dunea
With two boisterous boys at home and a country career to tend to on the road, the couple have to work at making sure they have time together.
"We had a movie night planned and [the band was] late coming home [from tour]. Caroline said, 'Let's just cancel and you can spend some time with Bo,'" Luke recalls. "But I was like, 'No, we've been planning that.' You still have to give your wife ample time too. I think some people get so encompassed [in] pleasing their children, they forget to tend to their marriage."
Making sure her marriage stays strong means shelling out for a babysitter — and Caroline's just fine with that.
"With two, I needed a little help — and she's good for the award shows too, because now I can go and celebrate with him!"
For more on Luke Bryan and all your favorite country stars, pick up the new issue of PEOPLE Country, on newsstands now. For free country music downloads, go to PEOPLE.com/free.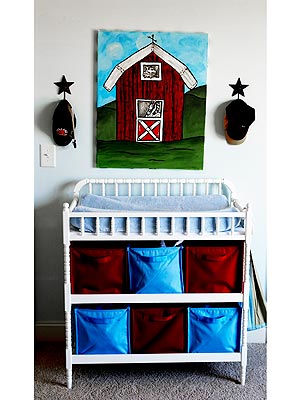 Changing area – Melanie Dunea
— Sara Hammel with reporting by Eileen Finan