Jim Carrey Calls Grandson 'Just Magical'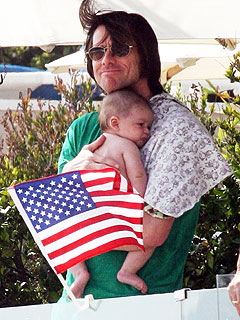 Fame
It's been a year of ups and downs for Jim Carrey, but the star of I Love You Phillip Morris says he's still riding at least one high.
"[I] love being granddaddy, granddaddy Jim," he raves to Access Hollywood.
All the same, it's a title that took some getting used to! "It's very odd," Carrey, 48, confesses. "It's not something I expected at this age to be."
Once 8-month-old grandson Jackson Riley arrived in February, however, whatever qualms Carrey had been feeling quickly disappeared.
Describing his daughter Jane's son as "just magical," Carrey says, "I just get a lot of joy … a lot of joy from that little boy."

"It's the greatest feeling in the world and as you get older," he continues, "Your connection to these things gets so intense … you just go, 'Without this, I die.'"