Jenna Jameson Hopes Sons Won't Question Her Past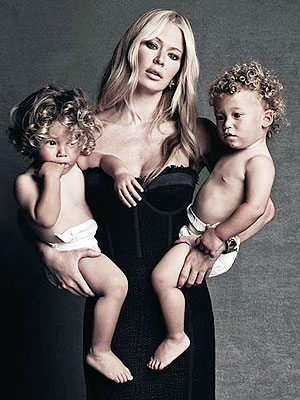 Patrick Demarchelier
For Jenna Jameson, actions speak much louder than words.
When the former porn star welcomed now 20-month-old fraternal twin sons Jesse Jameson (left) and Journey Jette (right) with Ultimate Fighting Championship star Tito Ortiz, the new mom put her past behind her — and hasn't looked back since.
"I really don't think I need to say, 'Mommy was a porn star,'" Jameson, 36, reveals in December's W magazine.
"I feel like they're going to know me and think, 'Mommy loved us so much that she quit everything and made us her job.'"

And according to Jameson, that's exactly what she did — including removing her breast implants.
"I thought, 'I'm getting rid of these things. I don't need them anymore,'" she says, adding that she was surprised to find herself a natural at breastfeeding. "The moment I decided to have children I quit. I won't even do a Maxim cover."
Now happily settled in Huntington Beach, Calif., Jameson is thrilled that her "really beautiful family community" has embraced her for who she is: a mom.
"Here I'm not 'Jenna Jameson'; I'm just one of the moms who walk a double stroller every day," she explains. "I'm a normal girl with all the same worries and insecurities. I just happen to have done porn."
— Anya Leon