Elisabeth Röhm Was the 'Happiest Pregnant Person'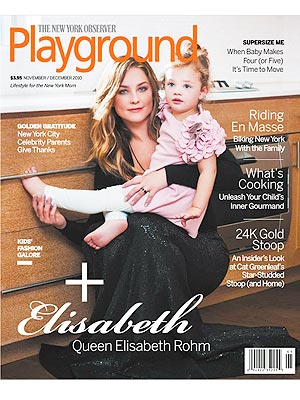 Courtesy Playground
It was love at first sight for Elisabeth Röhm and her fiancé Ron Anthony.
"We met because he is a fashion designer … I was borrowing clothes for an event, he measured my thigh and that was it," laughs the actress, 37, in Playground's November/December issue.
Eventually giving birth to the couple's now 2½-year-old daughter Easton August, Röhm has nothing but sweet memories of her pregnancy days — literally!
"I was a ripe 200 pounds when I gave birth to Easton. I dove into a pint of ice-cream every night, I will admit," she shares.
"I have to say, I was the happiest pregnant person. I was not moody, was not crazy; I was relaxed and happy."

And despite her doctor's initial warnings against too much additional weight, the then mama-to-be remained calm and carefree.
"My doctor was worried that I had gained so much weight; however he said that the body really knows what it needs to create this baby," Röhm recalls. "I put on 70, 75 pounds."
Once baby girl arrived, Röhm maintained her laidback approach to shedding the pregnancy pounds and instead focused on her new family.
"I enjoyed being at home with Easton and not worrying about running back to a gym, then started to do a little yoga," she says. "I approached my weight loss without a race, I took my time. If you're happy, you have a happy baby!"
According to the former Law & Order star, a happy baby is what she got — especially come sunrise!
"I wake up between 2 and 4 a.m., when Easton comes into my bed to say, 'Mommy, I love you!' We wake up around 7 a.m., and the day is really all about Easton," Röhm reveals. "We eat dinner together at 6 and we cook every meal at home."
Thankful for the quality time she is able to spend with her daughter, Röhm is quick to note the acting industry has afforded her such a luxury.
"I feel so blessed that I chose the right career, being an actress. I get to be on a job, and then have time when I am done with the job to be home with Easton, where I can be 100 percent with her," she muses.
"I will say that finding the balance of being a mom, and being multidimensional, is such a profound challenge."
— Anya Leon