Baby No. 2 On the Way for Vern Yip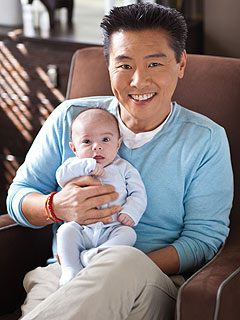 Douglas Friedman
It's time to redecorate: Design Star judge Vern Yip and his partner are expecting their second child, they tell PEOPLE exclusively.
"It's really exciting, we're thrilled," Yip, 42, says. "We're due the very first week of March."
Though Yip and his partner — who are again using a surrogate, as they did with son Gavin Joshua Mannox, 10 months — know the sex of baby-to-be, they're not sharing just yet.
But Yip does say he's looking forward to having two children under the age of 2 running around at home.

"I have one sister who's 10 years older than I am," he explains.
"I love her to pieces, but we were always in two different places in our lives because when I was a kid, she was going through adolescence, and when she was going off to college, I was in junior high. I missed that experience, and I'm really excited that Gavin and his sibling will be close in age."
So is the new dad nervous about the time and energy required to handle two babies? Not at all.
"My whole life I've just been one of those people who's really comfortable with having a lot of balls up in the air," he says. "Maybe I just don't know any better — it's not like I've done this before! But with kids especially, you do whatever you need to do to make it work, and it just happens."
Luckily, Gavin has made life fairly easy for Yip thus far. "He's been on over 50 plane flights already, and he's great on airplanes," he boasts. "And ever since he started eating solids, he's been into eating whatever we're eating, and I love that."
But just because little Gavin is adapting to his dads' grown-up ways doesn't mean he's whizzing through all his important milestones. "He's been crawling and just starting to pull himself up," the proud papa shares. "He says 'dada,' too. And he's had two bottom teeth for a while now, and the top ones are just about to poke through."
Gavin is also exploring his nursery, which Yip designed and filled with artifacts from his international travels.
"We're really teaching him we have a lot of things around the house that he could break, and we're teaching him what he can and cannot touch," Yip explains. "I know we're going to probably lose some things in the process, and it's going to be fine. At the end of the day, things are things."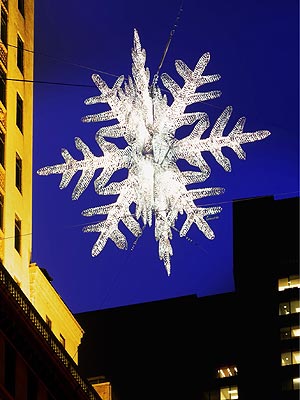 Courtesy UNICEF
He'll have the chance to pick up more 'things' soon, though: Yip was recently selected as a United States UNICEF Ambassador, a job that will send him around the world to improve the lives of children in impoverished nations.
"I've got a great, healthy kid and hope to have a second," he says. "But there are so many children in the world who don't have the basic fundamentals that they need: water, access to vaccinations, the proper nutrition. Twenty-two thousand children die every day, and that's so preventable."
One of Yip's first tasks in this new role is lighting the iconic UNICEF Snowflake (pictured) on New York's famed Fifth Avenue (at 57th Street) on Nov. 18.
"I'm super excited about it," he shares.
"Though we're heading into the holiday season and focusing on that, I want people to remember that there's a lot happening in the world. There are a lot of kids out there who need us — and it's our responsibility to help."
— Kate Hogan