Gretchen Mol Expecting Baby No. 2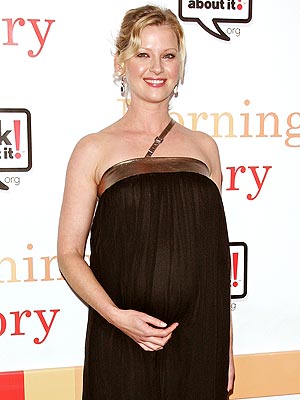 Jim Spellman/WireImage
She may be on a hiatus from her hit show Boardwalk Empire, but Gretchen Mol is keeping busy: the actress is expecting her second child.
"I'm just enjoying this time. We're not shooting now so I'm having a baby and then we'll start shooting again, which is great," Mol, 38, tells PEOPLE at the Sunday premiere of Morning Glory.
"It's really lovely to know I have a job coming and there's this little time and I can really enjoy it instead of feeling [stressed]."
Thrilled to welcome another baby with husband Kip Williams in February — the couple are already parents to son Ptolemy John, 3 — Mol admits her feelings of excitement aren't shared by all.
"It's interesting the reaction … when people see you and say, 'Oh, when are you due? Is it your first?' And you say, 'No, it's my second,' they're like, 'Oh, [disappointed sigh].' Like, it's just not as sweet and dramatic," she notes.
"You don't get that reaction like you did with the first one," Mol says, "so you sort of feel like, 'Oh yeah, just, here I am again.'"
— Anya Leon with reporting by Suzanne Zuckerman