Giveaway: Holiday Get Gorgeous Box from Mama Mio (A $95 Value!)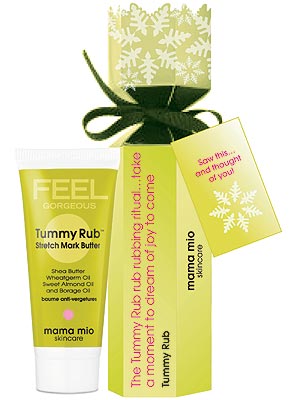 Courtesy of Mama Mio
Before baby arrives, it's important to take time out for a little mom-to-be pampering.
That's why we love body care line, Mama Mio.
From the Tummy Rub Stretch Mark Butter to the Lucky Legs Cooling Serum, the brand's soothing products give moms a much-needed spa-like experience.
Want to try them out? The company is giving away a Holiday Get Gorgeous Gift Box to five lucky Moms & Babies readers.
It includes the following goodies: Get Waisted ($10), Boob Tube Bust & Neck Firmer ($10), Tummy Rub Stretch Mark Butter ($10, 30ml), a OMG Feel Good Mini Kit ($35) and Boob Tube with Magic Shimmer ($30).
Hurry up and enter for your chance to win! Online entries must be received between 12:01 a.m. Eastern Time ("ET") on 11/8/10 and 11:59 p.m. (ET) on 11/14/10. See Official Rules.
Also, the first 25 people to register their details at mamamio.com/us/people will receive celeb-fave Boob Tube Bust and Neck Firmer. Jessica Alba and Christina Aguilera are both big fans. Everyone else will get a $10 gift certificate to mamamio.com. Hurry! The offer expires on Nov. 12.