Gavin Rossdale: Stylish Kingston and Zuma Get Along Great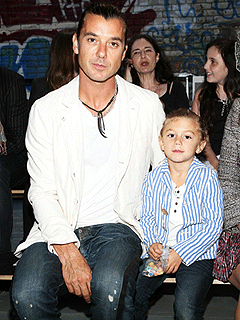 Jerritt Clark/WireImage
The only thing Kingston and Zuma Rossdale may fight about is clothes!
Gavin Rossdale is pleased that otherwise his sons, 4 and 2 respectively, seem to be getting along better.
"I see a difference every day in their interactions, and this is a good thing," Rossdale, 45, told PEOPLE during the Chris Evert Pro-Celebrity Tennis Classic in south Florida this weekend.
"The boys are getting along great now," he adds.

Since Rossdale took Kingston on the road last year during his solo tour, and enjoys escorting both boys to the beach or the park in Los Angeles and London, he also spends time getting them ready.
But who decides their style of dress is quickly changing.
"Kingston and Zuma each love to pick out their own clothes so my role in that has diminished," Rossdale, who is preparing for a duet with Carlos Santana at Nov. 21's American Music Awards, said. "They are both very stylish little boys and have huge opinions on their own clothes."
Luckily they have some rockstar parents to emulate!
— Linda Marx