Kelly Ripa & Mark Consuelos: Good Manners Not Lost On Our Kids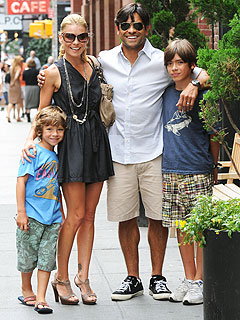 Hector Vallenilla/Pacific Coast News
When it comes to instilling good manners in their three children, Kelly Ripa and Mark Consuelos look to family dinners every night of the week for help.
"It's when we do some of our best parenting," Ripa told PEOPLE at The World of Gloria Vanderbilt book signing in New York on Thursday.
"We have a routine. We go around the table and listen to everyone's stories of the day, what happened in school, what we liked and didn't like," Consuelos added.
"I always tell my kids — you don't have to be the best at sports, the smartest, the best at math, but you do have to have the best manners," Ripa, 40, explains. "I don't tolerate piggish behavior in kids, and mine have learned the hard way."

For the Consuelos kids — Michael, 13, Lola, 9, and Joaquin, 7½ — that means "no interrupting people at the dinner table," which Ripa says can be a constant battle between the two youngest kids.
"Lola and Joaquin actually like to cut each other off, so we work on letting everyone finish their thoughts respectfully."
Another challenge? Getting them to put pen to paper! "I am very serious about sending thank you notes — to the point where my oldest son, Michael, has asked to not have birthday presents anymore because he doesn't want the burden of thank you letters," laughs Ripa.
Thankfully, her kids cut her a break when it comes to what to wear — and her youngest son is the most stylin'.
"Joaquin is so fashionable and hip," notes Ripa. "He loves fedoras, ripped jeans, scarves, and anything he sees Mark wear. I love all my children equally, but Joaquin always looks the coolest!"
–Kate Hallett