Marissa Jaret Winokur's Blog: 'Vacationing' with Kids
Thanks for welcoming Marissa Jaret Winokur! The actress, who co-hosts the new CBS daytime chat show, The Talk, is mom to 2-year-old Zev Isaac with her husband Judah Miller. Winokur, 37, was diagnosed with cervical cancer 10 years ago, had a hysterectomy and later welcomed her son with the help of a surrogate. Though her road to motherhood had a few twists and turns, she faces the same joys — and challenges — as any working mom. In her latest blog, Winokur discusses the elation and frustration of traveling with kids.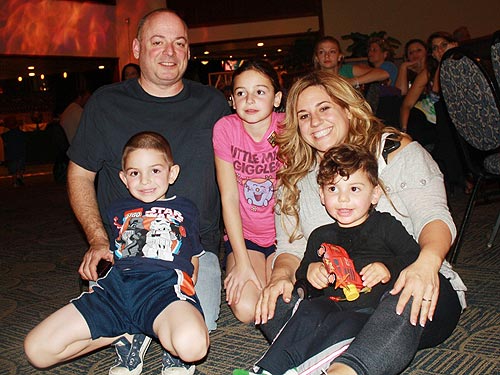 Marissa, Zev, his uncle and cousins – Courtesy Marissa Jaret Winokur
This week I went on a vacation — one of my first since I've been a mom. The question is: WHY DO WE DO IT?! In theory, it sounds fun. It sounds relaxing. It's a vacation after all – a holiday! But when traveling with a child, it should be called something else!
Putting It All Together
The changes began when planning the trip six months ago. Should we go to Vegas (like always)? No … WALT DISNEY WORLD!! Zev will love it! Picking the right flight was not easy. Because of Zev it was, 'What is a good time to travel for him?' — not us. And that was just the icing.
Now, I understand that life changes so much when you have a child, but for some reason this "vacation" really solidified it for me! I think the first clue was in packing … I didn't pack one pair of nice shoes. Flip-flops and sneakers were all I needed! For the toiletry bag, I had the bare necessities. Lip-gloss and mascara (which I never touched) were all I brought for makeup. No curling iron, no dresses — just a bathing suit cover up and lots of undies.
My husband and I fit all our stuff into one little rolly bag carry on … But then HOW did I have two bags to check? I mean, my son is only 2 years old, and weighs only 30 lbs. How much stuff can he need?! The answer is: EVERYTHING!! It took many lists and a week to pack!
Then there was scheduling. I remember going on trips with my husband and just lying in bed and saying, "What should we do today?" But this time, I had everything planned out — every meal, every ride, every second to make sure Zev ate and had his naps!
For a kid-friendly hotel, I picked the BoardWalk because it has, well, a boardwalk and boats. We also met up with my brother and his kids at Disney. Now that I have a child, it's more fun vacationing with family members, plus it's great for cousins who live 3,000 miles apart to spend time together.
In the park, I missed Tower of Terror because Zev is obviously too small, but went on It's a Small World three times! The only sit-down meals we had included Mickey and Donald. No late night drinks and moonlit walks. Actually, I take that back: every night we saw people having yummy drinks as we passed them with our stroller while walking Zev around for his "moonlit walk" — to sleep.
We didn't rent one pay-per-view movie (one of my favorite things to do in hotels) because when Zev fell asleep, we would literally pass out! No hotel sex, no energy.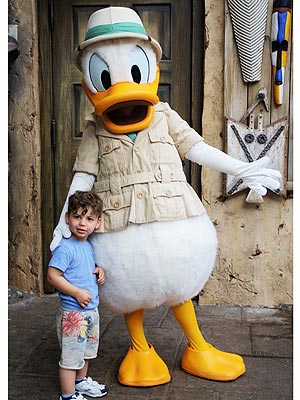 Donald Duck and Zev – Courtesy Marissa Jaret Winokur
Watching Zev Experience New Things
The biggest difference, though, was that I took 3,000 photos. I didn't waste my time lying around. I wanted to share all the new adventures with Zev. I was so excited watching him grow and see things he'd never seen before. It wasn't a romantic getaway — it was a memory for a lifetime.
I will forget the horrible flight and I will forget being more tired than I have ever been. But I will never forget seeing Zev meet Donald Duck — his favorite character — or watch his first firework show (every night). The family bond that was made by leaving our everyday lives was amazing.
The trip reminded me that I need to put my BlackBerry down and just BE with my son. I multitask way too much. It goes back to the balancing act. I was able to be a mom 100 percent on vacation. And I don't need to be at Disney to do it. This weekend, I plan on leaving my phone at home and going to a park and just being with Zev.
I will start to work on the wife thing next week…
It's funny — I started writing this blog about how hard it is to travel with a child and how much I miss traveling alone with my husband. But while I was writing, I tried to remember trips I took before and NONE were as special or even as romantic as my family's first trip to Walt Disney World. I have never loved my husband more than I did while watching him hold our son on his shoulders during the fireworks show.
So, I take it back. It was a perfect holiday!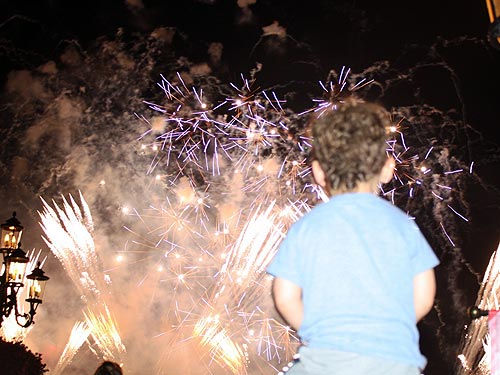 Judah and Zev watch the fireworks – Courtesy Marissa Jaret Winokur
Reflecting on Last Week's Blog
I loved all your comments from last week. I read every single one and will continue to do so. I really do feel like we can build a little community. Even the people who think I am a spaz mom, your comments are appreciated. I admit I am a spaz! I would love to meet the woman who could remain calm while her baby is locked in the car in the valley in L.A. in the hot sun.
Yes, I strive to be that mom. We all do. I see where I may have sounded like a crazy person and appreciate your comments, as well as the countless women who told tales of their own children being locked in scary places.
Thank you for sharing. It made this mom feel better.
Next week: Why is the saying "sleeping like a baby"? What baby sleeps?!
— Marissa Jaret Winokur